January 20, 2012
Facebook Continues its Global Dominance, Claiming the Lead in Brazil
Brazil's social networking market has a new leader. Earlier this week comScore released results showing that Facebook surpassed Orkut in December, becoming the largest social networking destination in Brazil for the first time.
Facebook's ascent in Brazil is impressive with the site gaining 23.7 million unique visitors in the past year, tripling its audience and rapidly narrowing its gap with long-time market leader Orkut. Facebook closed out the year reaching 36.1 million Brazilians to secure the #1 spot in the market.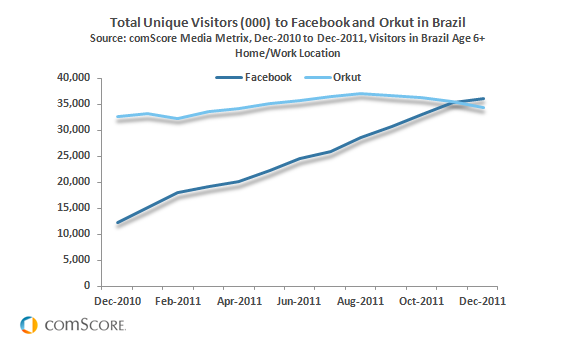 Perhaps even more impressive than Facebook's audience growth is the rapid increase in engagement among its users. In only 12 months, average time spent on Facebook went from just 37 minutes per visitor to nearly 5 hours, making it the third most engaging web property in the country behind Microsoft Sites and Google Sites.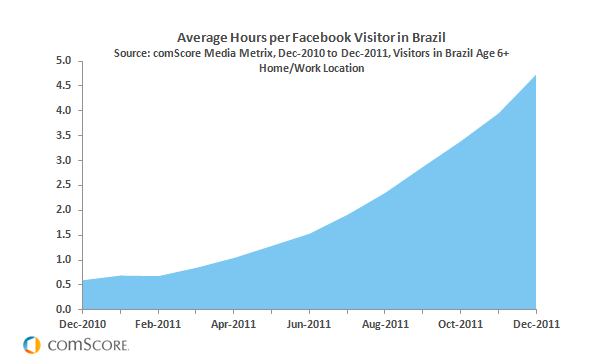 As discussed in the recent comScore study It's a Social World, Brazil was one of just a handful of global markets where Facebook did not lead the local social networking category – until now.
A closer look at the top 10 fastest-growing markets for Facebook in terms of site visitors revealed that more than half of these were countries where Facebook either did not lead until very recently or where the site does not currently lead. Vietnam, which in December 2011 was the fastest-growing Facebook market when compared to the previous year, saw Facebook surpass local site Zing Me in November. Brazil, the second-fastest growing market for Facebook and largest in terms of absolute visitor increase, saw the site take the lead in December. In the Netherlands, the sixth-fastest growing market, Facebook surpassed local destination Hyves in July 2011.
In four of the top-gaining markets – Japan, South Korea, Russia and Poland – Facebook does not currently lead the local social networking ranking. But given Facebook's growth in these markets, and if the example of Brazil is any indication, there is a likely chance that Facebook will capture the lead in at least one of these countries (and perhaps more) during 2012.