June 9, 2011
Official Games Site Users Are Pure Gold
With the Olympics now just over a year away, the first test of consumer excitement has just finished with a reported 1.8m individuals applying for tickets before the end of April deadline. London 2012 organisers have every reason for optimism, with over half the events already oversubscribed, and the site's existing audience provides even more cheer. A look at the data for April shows that over 1.6m UK users visited the site, and that the social grades that over-indexed were A and B (perhaps indicative of the ticket prices reaching as much as £2,012 for the best seats at the opening ceremony!). Regarding the demographic profile of stereotypical visitors to the official Olympics site: she's a 45-54 year old woman, with a household income over £50k a year and lives in London.

The household income and social grade demonstrate that the site's audience is a very valuable target for many marketers, and is reflected in the blue-chip nature of the official sponsors such as Coca-Cola, Omega and P&G. The early signs are that this sponsorship is working extremely well for a number of these partners, with official Olympic site users far more likely to visit the sponsors' brand sites than the average internet user overall. Visa, the official payment provider to the Games and the only payment method accepted for online ticket applications, has seen the largest impact with over a six-fold increase in reach. Amongst the consumer-focused brands, only Acer and Panasonic have failed to see a lift in visitation amongst this audience so far.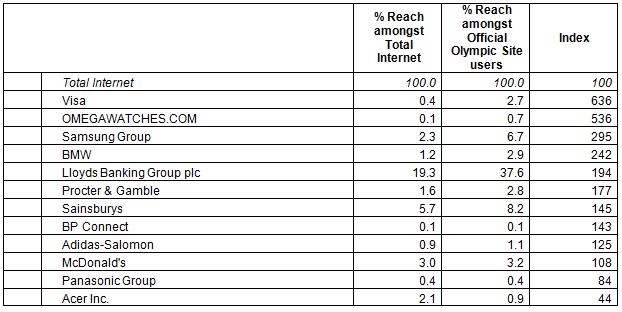 Whilst 90% of the audience for the official site is from the UK for now, the localisation features of the site will become more and more important as the Games approach. A similar phenomenon could be seen in August 2008 during the Beijing games, when only a quarter of the users visiting the site came from China.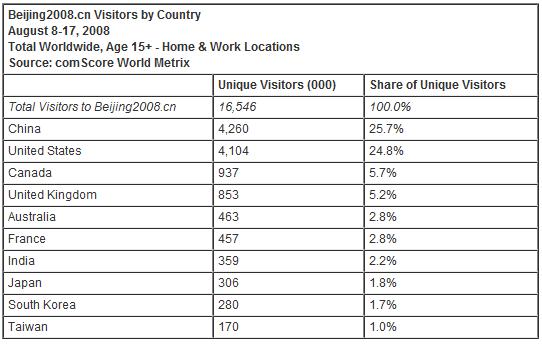 Building on the growing level of interest in the Games, several of the sponsors have just started their related digital advertising campaigns, with the Lloyds Banking Group booking most display ad impressions in the UK in April 2011 of all the sponsors. Some of these creatives were Olympic-themed display ads with a call to action to apply for tickets ahead of the deadline. These campaigns kicked off in March, mainly on News International sites, Glam Media, Guardian Media Group, Transport for London, Telegraph Media Group and Ticketmaster.
The Games promise to deliver an incredibly emotive, inspiring experience to a global audience next summer. The early evidence suggests that sponsors will not only reap the benefits in 2012, but that their marketers are already out of the starting blocks in the race for increased consumer engagement and interaction.