July 16, 2014
Participation of the Latin American Teams in the Digital Field
After a month full of emotions during the 2014 FIFA World Cup in Brazil, we have seen many Latin American teams fare well in this global competition, including Brazil and Argentina both making it to the round of four and being Argentina the sub-champion of the tournament. While the teams competed on the field, their fans were competing to show their support – whether they traveled to Brazil for the tournament or they followed the events online.
We recently reviewed comScore Media Metrix® online sports visitation data for some of these countries to understand which countries' fans were following most closely. The data showed that Argentina had the highest reach among sports sites at 57%, followed by Chile (47%) and Brazil (44%). Below you can see also the top 5 sports sites accessed via desktop computer in each country:
Data from comScore Mobile Metrix® also revealed the sports websites most visited via mobile devices, with the top 5 for each country on both smartphones and tablets included below: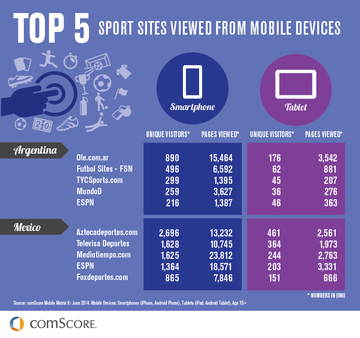 If you would like to learn more about comScore Media Metrix or comScore Mobile Metrix® for the measurement of digital audiences, please contact us.
Tags: Audience Analytics, iPhone, Mobile, Rankings, Sports