August 10, 2012
Small Screens for Big Games
The 2012 Olympics have created many memorable moments for fans across the globe, which they are experiencing through an increasing number of devices. As in Games past, fans are staying up to date on their favorite athletes, events and national teams on their TVs and computers, but this year's Summer Olympics are the first time when other connected devices are finally assuming their own place at the podium. The ubiquity of smartphones and the rapid adoption of tablets have created new channels for fans across the globe.
To put things in perspective, during the 2008 Olympic Games in Beijing just 20 million people in the U.S. owned a smartphone compared to the more than 110 million that own one today. Further, tablets as we know them were not even an option for consumers with the first iPad still two years away from its launch. To say much has changed in consumer technology since the 2008 Beijing Games would be a strong understatement.
If we take a look at people accessing sports content on their mobile phones, the growth among UK and U.S. audiences is impressive. In June 2012, 12.3 million people engaged with sports info on their mobile phones in the UK, jumping 36 percent in the past year. More people are not only accessing sports content on these small screens, but people are accessing with increasing frequency. Of these 12.3 million people, 3.6 million of them accessed sports content on their phones nearly every day, up 41 percent from just a year ago.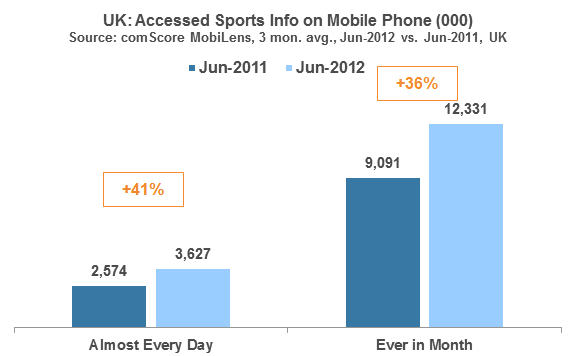 The rising adoption of tablets has also influenced how people consume sports content. In the U.S., new data from comScore TabLens shows that tablet owners are even more likely to interact with sports content than their smartphone counterparts. In June, nearly half of tablet owners accessed sports info on their device, compared to 38.6 percent of smartphone owners. Tablet owners were also more likely to access sports content on a daily basis, with 17.3 percent of tablet users doing so compared to 14.1 percent of smartphone owners.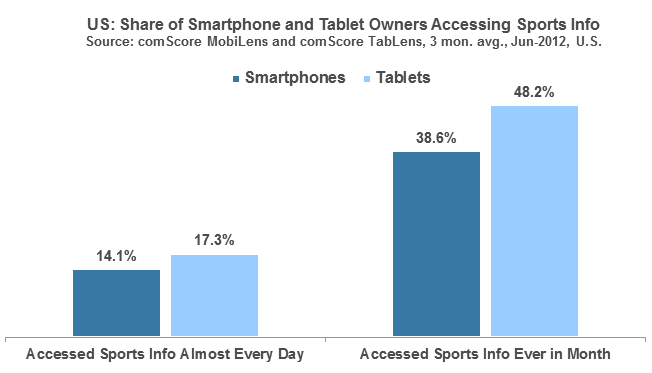 Understanding how tablets and mobile phones are influencing how people connect to digital content is essential for today's marketers, but understanding how these devices influence cross-platform media consumption provides even further evidence of the rise of the multi-device consumer.
Keeping up with the Games often involves seeking the latest updates from news sources, an activity that has become increasingly easy with the variety of news providers making their content easily accessible via mobile phones and tablets. If we look at UK page view traffic to News/Information sites on the first full day of the Games (Saturday, July 28), we find different patterns of relative consumption appear across the three main device categories – PC, Tablets and Mobile Phones. Computers drove less relative traffic to news destinations during the first part of the day, compared to tablets and mobile devices. Tablets saw higher relative use in the morning hours, as tablet owners were more likely to browse news leisurely through these devices on a weekend morning. Tablets saw their highest relative usage in the evening hours, as people were more likely to curl up with their device before heading to bed. Reflecting their ubiquitous nature, mobile phones – which are always within an arm's reach – had the greatest traffic stability over the course of the day when compared to tablets and PCs.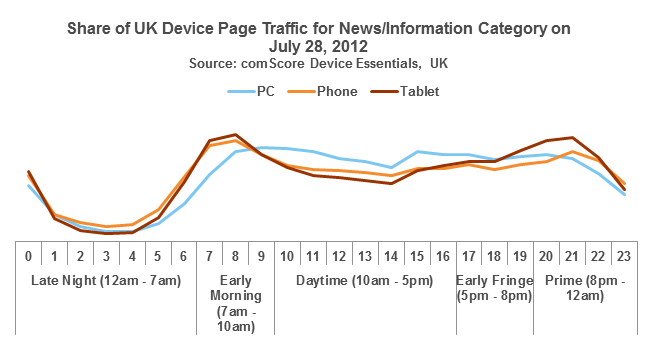 These differing trends highlight how consumers depend on a variety of devices to consume information according to their needs at the moment and broadly illustrate an overall shift toward cross-platform digital media consumption through multiple device touchpoints. It is clear that today's Olympic fans and consumers everywhere have a growing number of ways to access content, presenting marketers with expanding opportunities to reach today's connected consumer, along with new challenges in understanding this increasingly complex, multi-platform landscape.
As the 2012 Games come to a close, it is exciting to wonder what innovations will shape how fans experience the 2016 Summer Games. What new devices will exist? What new technologies will influence how people consume content? What new user experiences will these technologies create? Remembering how far we have come since Beijing demonstrates the nearly endless possibilities for what we can expect in the next four years.
Click here to catch up to all the latest comScore at the Games action.
Related Products
comScore MobiLens® Plus is a market research tool that provides insights into consumers' smartphone and tablet device preferences, usage trends, and demographics. Matching...

Learn More