December 1, 2009
Thanksgiving Weekend Continues Strong Momentum for Online Holiday Shopping
We just tabulated the holiday spending totals for the Saturday and Sunday of Thanksgiving Weekend (Nov. 28-29) and saw continued growth in online consumer spending after the double-digit gains of Thanksgiving Day (+10% vs. year ago to $318 million) and Black Friday (+11% vs. year ago to $595 million). Saturday and Sunday combined to show a growth rate of 5% tracking above the 3% growth rate for the holiday season to date.
For the full week ending Sunday, holiday spending reached $3.17 billion, representing a 6% gain versus the corresponding week last year. The strength of this particular week can be attributed to the significant discounting and promotional activity from retailers. But, lest we get carried away, we also have to remember how bad November of last year was for retail in general, which makes the comparisons to year ago somewhat easier.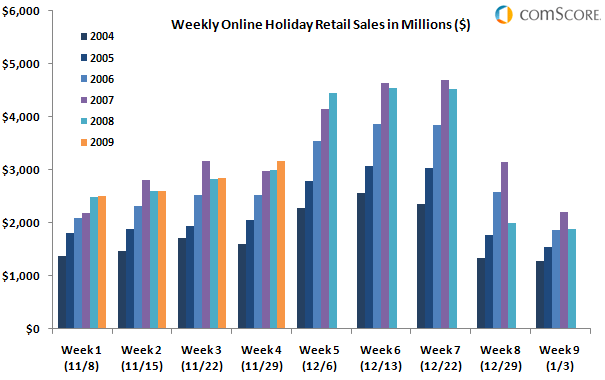 As we await the completion of our spending estimates for Cyber Monday, we anticipate growth rates for the first big spending day of the season to continue to track above the season-to-date average. We are hoping to see enough strength to clear the $900 million daily spending threshold for the first time in history. That would certainly be a notable achievement in the history of e-commerce!
comScore chairman Gian Fulgoni will announce Cyber Monday spending totals live on CNBC tomorrow morning at 9:15 AM EST, which will be followed by our press release detailing the activity of the day.