March 2, 2009
Traffic With Sleeves
Recently, a certain blanket with sleeves - otherwise known as the Snuggie - has become a national phenomenon, infiltrating pop culture with its ubiquitous infomercial, celebrity Snuggie sightings and Facebook groups. It has inspired a massive cult following and even Snuggie-themed social events, including Snuggie Bar Crawls across the nation.
Recently it was reported that more than four million Snuggies were sold during a three month period, with orders continuing to flood in making it difficult to keep the item in stock.
As this national obsession continued to take hold, my curiosity eventually got the best of me. I decided to take a look and see how Americans were turning to the Internet to satisfy their Snuggie craving. Not surprisingly, traffic to Snuggie-related sites peaked during the holiday season in December, with FreeSnuggie.com reaching 1 million visitors that month and GetSnuggie.com reporting about half that number.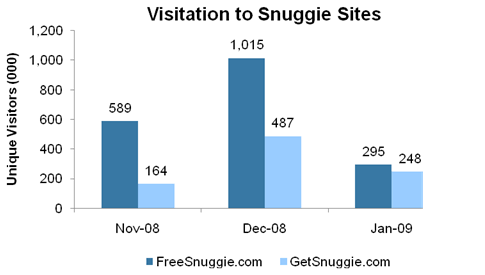 Searches for Snuggie also peaked in December, with almost half a million searches performed for the term "Snuggie," up from 110,000 searches for the term in November. (By comparison, there were 180,000 searches for the term "ShamWow" in December - pretty impressive when you consider that Snuggie lacks the marketing muscle of ShamWow's spokesman extraordinaire, Vince Offer.)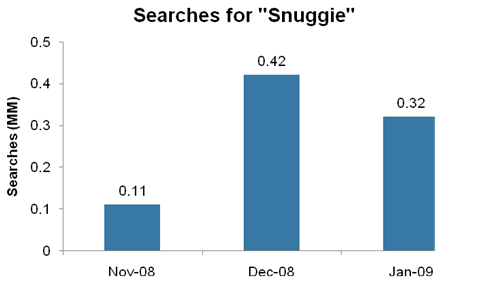 Obviously I was intrigued by the Snuggie. I mean, how many times have I sat cold on my couch under just a normal blanket cursing the fact that it rendered my hands useless to perform simple tasks such as answering my phone, flipping the TV channel or even holding a baby? I had finally had enough and caved, purchasing my own Snuggie.
I must say, it was worth it.