September 3, 2013
Understanding Digital Consumer Habits in Central America
comScore recently released the 2013 Study of Central American Digital Media Habits. The study features a comprehensive overview of the Central America online user's behavior; including insights on their social media, TV, and mobile usage, and highlighting key trends enabling advertisers, agencies and publishers to build more successful digital strategies.
Insights included in this report are based on a comScore Custom Marketing Solutions study, which leverages rigorous attitudinal and behavioral research methodologies to address specific questions that help further our understanding of digital consumer behavior.
Here are some highlights of the key trends you need to know.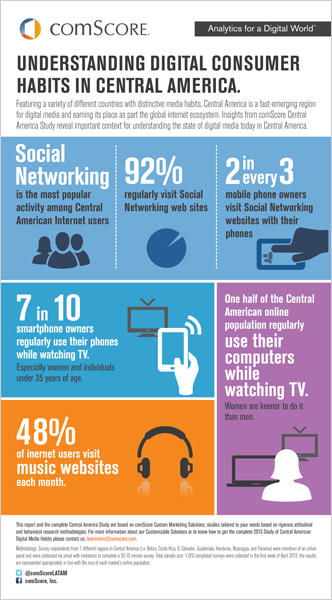 Embed to your site:
<p><a href="http://www.comscore.com/Understanding-Digital-Consumer-Habits-in-Central-America">Understanding Digital Consumer Habits in Central America</a></p>
<a href="www.comscore.com/Understanding-Digital-Consumer-Habits-in-Central-America"><img src="http://www.comscore.com/content/download/21907/1128385/file/EN_Central_America_Facts_Infographic.jpg" alt="Understanding Digital Consumer Habits in Central America" width="850″ /></a>
To request more information on comScore Custom Marketing Solutions or learn more about the Central America Study please email us at learnmore@comscore.com
Tags: Demographics, Internet Use, Media & Entertainment, Smartphone, TV