October 6, 2011
comScore Introduces Ad Metrix Social™ for Visibility into the Social Side of Display Advertising
comScore is excited to announce the introduction of Ad Metrix Social, a significant new product enhancement that provides unique detail and insight into the social side of display advertising. The availability of this new social measurement module helps advertisers and agencies understand the importance of display ads appearing on social networking sites and socially-enabled display ads appearing across the web.
Why is understanding the social side of display advertising so important? Consider the following statistics on the U.S. social networking market:
1 out of every 6 minutes spent online is spent on a social networking site
1 out of every 3 display ads appears on a social networking site
½ of the total U.S. Internet audience visits a social networking site in a given day
The average Internet user views more than 2,000 display ads on social networking sites each month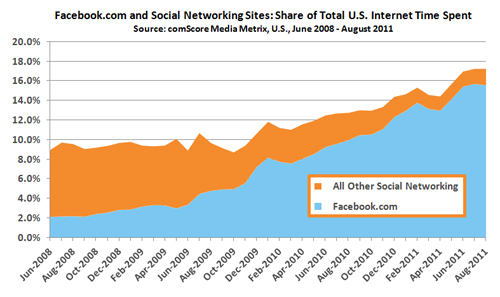 In short, social networking represents a massive media channel in its own right and advertisers must be equipped with the tools to understand the competitive landscape and the audiences being reached with social messages.
Socially-Published Display Ads
Right now, you may be asking "What are socially-published and socially-enabled display ads?" Socially-published display ads are ad units appearing on social networking sites, such as Facebook and Linkedin. While comScore Ad Metrix has always reported on the volume of display ads on these sites, the addition of enhanced reporting detail and functionality provides advertisers and agencies with a more comprehensive understanding of these advertisements. In the case of Facebook, which accounts for the preponderance of display ads in the category, most of its ad units are non-standard display ads based on an image and surrounding text, such as the examples below:

Traditionally, the non-standard nature of these ads has added to the complexity of classifying these ads according to advertiser and product. With the introduction of Ad Metrix Social, comScore has resolved this issue through the development of a proprietary classification protocol, which ensures these ads are mapped to the appropriate advertiser.
In addition, comScore's Unified Digital Measurement (UDM) methodology provides Ad Metrix with a distinct advantage over competing services when it comes to accounting for socially-published display ads. Competing services, many of which rely on spiders to crawl the web for display ad collection, are unable to access all the content on sites like Facebook that require the user to log-in. Because Ad Metrix measures activity within the comScore panel with explicit permission from the panelists, it has visibility into ad exposures occurring within Facebook and other log-in sites.
Socially-Enabled Display Ads
Socially-enabled ads are a somewhat more recent development on the display ad landscape. These ads typically include an emblem or specific messaging directing the audience to engage with their brand on a social network (usually either Facebook or Twitter). Below are a few examples of display ads classified as socially-enabled ads.
Currently, socially-enabled ads account for slightly less than 1% of the entire U.S. display ad market. However, they are beginning to play a very prominent role within certain categories. For example, 10% of all Food & Beverage CPG advertisers' display ads are socially-enabled – with several large brands including Budweiser, Lifesavers, Oscar Mayer and 3 Musketeers well above 40%.
Socially-enabled ads help increase the number of brand fans, which in turn increases the ability of brand marketers to directly reach their fans with relevant messages. But that's not the only benefit, because comScore research through our Social Essentials service has shown that a brand's communication to fans is amplified through the "friends of fans", with this amplification occurring both in terms of additional reach and persuasion.
The Intersection of Social + Display = the Future of Digital Ad Campaigns
We are still in the very early phases of the integration of social media and display advertising. Historically, these marketing tactics have been relegated to their own silos, but savvy marketers are beginning to understand the synergy between the two. Social has evolved into an essential component of the modern marketing mix, and one of the most vital aspects of developing these relationships with consumers is by turning them into brand fans and followers. Socially-published and socially-enabled display ads are helping to forge this critical link.
Now is the time for brands to get serious about their social strategies or risk falling behind their competitors. Staying ahead of the curve requires the right competitive intelligence to understand the social side of display advertising, and Ad Metrix Social provides the actionable insights to do just that.
Related Products
comScore Ad Metrix® provides competitive intelligence for tracking display advertising, reporting on key person-based metrics and uncovering unique contextual insights.
Learn More