May 7, 2012
comScore Introduces Mobile Metrix 2.0: The Next Generation of Mobile Behavioral Measurement
Today comScore is excited to announce the U.S. launch of Mobile Metrix 2.0, the next generation of mobile audience measurement. Mobile Metrix 2.0 provides mission critical insights into the behavior of the most active mobile media consumers: smartphone owners. Mobile Metrix 2.0 is based on passive behavioral data collected from a 10,000+ person panel (whose members have agreed to install comScore's measurement software on their mobile devices). When combined with data from comScore's census network of tagged sites and apps, Mobile Metrix 2.0 delivers our clients an unprecedented view of the U.S. mobile consumer.
Five years ago this month we released the world's first syndicated service based on panels of metered-smartphones, but much has changed in the past half-decade. In 2006 there was no iPhone, no Android platform, and if you were one of the few people downloading a mobile app you were likely running it on Palm Treo or a Symbian smartphone. But the biggest change has been the explosive growth and mainstreaming of mobile devices—there are now more than 106 million smartphone owners in the U.S., a majority of people acquiring a new phone are buying smartphones, and sometime this year most Americans will have one of these powerful devices in their pocket.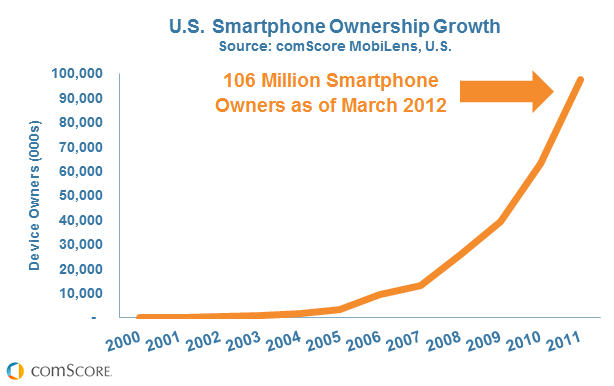 Smartphones have changed the way people use and consume digital media, becoming a critical channel for publishers and an increasingly important platform for marketers who want to deliver ads, offers, and other messages to consumers. Mobile Metrix 2.0 lets publishers, marketers, and agencies find and understand their audience in mobile. In addition to unduplicated audience sizes and demographic profiles, Mobile Metrix 2.0 provides granular data on audience engagement — such as time spent browsing sites, using apps, and total duration — and does this at the total market level and at the platform level for Android, iOS, and RIM smartphones. We can observe, for example, how usage of the top mobile publisher properties is divided between the mobile browser and apps.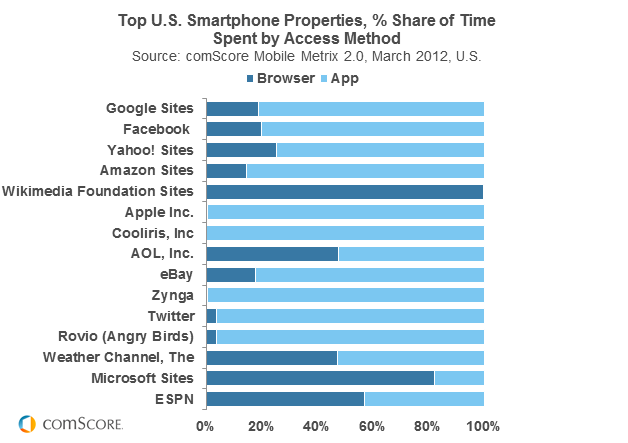 Mobile Metrix 2.0 has been in development for more than a year and owes its existence to the deep industry expertise comScore has amassed and the diverse assets we've built delivering other products in our mobile suite, including MobiLens, GSMA Mobile Media Metrics, and most recently Device Essentials.
The fundamental innovation in Mobile Metrix 2.0, though, is the application of our patent-pending Unified Digital Measurement (UDM) methodology to mobile. UDM unifies our mobile panel data and the vast dataset generated by our census network of tagged sites (both 'classic web' and mobile-optimized) and apps, providing the most granular and accurate metrics available today.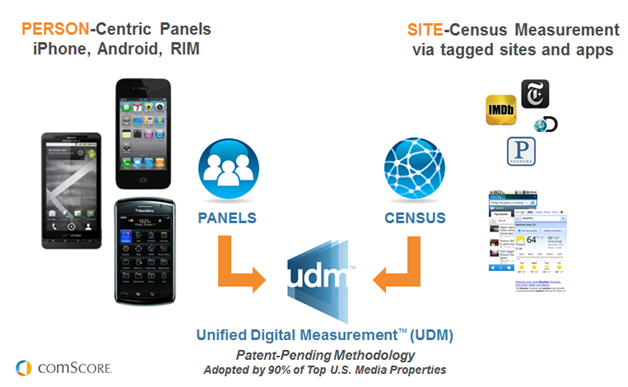 Today marks a significant achievement for comScore as we bring our mobile measurement fully into alignment with our flagship Media Metrix methodology and an important milestone on the path to delivering, in a single interface, comprehensive reporting of digital audiences across technology channels.
At comScore we've always strived to provide powerful analytics that help our clients improve and optimize their decision-making in an inherently complex digital universe. Mobile Metrix 2.0 delivers the actionable data and intelligence needed to accomplish just that.
Related Products
comScore Mobile Metrix® captures total mobile audience behavior on browsers and apps across smartphones and tablets. With Mobile Metrix, publishers can demonstrate the value...

Learn More