October 1, 2010
comScore Unearths Gems from the Data Mine for You!
At comScore, we are constantly mining our vast mountain of data and surfacing interesting new findings that we don't always get the opportunity to share publicly. So today we are introducing a new website, the comScore Data Mine. This site is our way of bringing more insights to you by regularly publishing new "data gems," which are colorful, bite-sized graphical representations of the best discoveries we unearth from our data.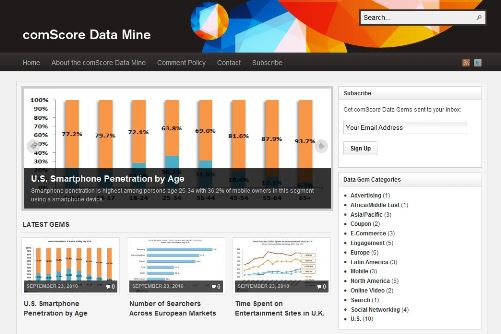 Whether you're a journalist, blogger, client, or just someone who loves data, we encourage you to use and share these data gems with others. Add a beautiful color chart to your story, spruce up your presentation, or share the findings with colleagues. We simply ask that you give comScore full attribution when you use the data gems. Please feel free to come back and browse the comScore Data Mine anytime, and if you'd like to see new data gems as soon as they're published to the site, please subscribe to our RSS feed or follow comScore Data Gems on Twitter.
We hope you enjoy!