December 31, 1969
Digital Analytix Business Study Wegener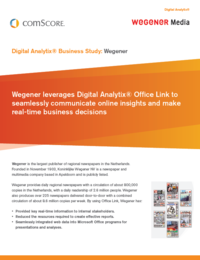 Wegener is the largest publisher of regional newspapers in the Netherlands. Founded in November 1903, Koninklijke Wegener NV is a newspaper and multimedia company based in Apeldoorn and is publicly listed.
Wegener provides daily regional newspapers with a circulation of about 800,000 copies in the Netherlands, with a daily readership of 2.6 million people. Wegener also produces over 225 newspapers delivered door-to-door with a combined circulation of about 8.6 million copies per week.
By using Office Link, Wegener has:
Provided key real-time information to internal stakeholders.
Reduced the resources required to create effective reports.
Seamlessly integrated web data into Microsoft Office programs for presentations and analyses.
Tags:
Media & Entertainment
,
Microsoft
,
Newspapers