March 14, 2013
2013 Brazil Digital Future in Focus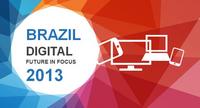 The rapidly evolving digital landscape made 2012 an exciting year for consumers and businesses. This webinar will examine how these changes including the latest trends in social media, search, online video, digital advertising, mobile and e-commerce are currently shaping the Brazilian digital marketplace and what that means for the coming year.
Join us as Alex Banks, comScore Managing Director, Brazil & Vice President, Latin America, presents key insights from the 2013 Brazil Digital Future in Focus on March 14th at 4:00 PM Eastern Time (5:00 PM Brazil). This session will be broadcasted in English.
Below is a preview of some of the trends we'll cover:
Consumers in Brazil spend more than 27 hours per month online on their PC, having the highest engagement of all 8 Latin American Markets analyzed.
Social Networks capture the largest percentage of consumers' time in Brazil, while Facebook remains the leading social network with nearly 44 million Unique Visitors in December 2012.
The online video consumption in Brazil grew 18 percent in 2012. YouTube is still top video property followed by VEVO.
Speaker:
Alex Banks, comScore Managing Director, Brazil & Vice President, Latin America
March 14, 03:00 pm - 04:00 pm