May 28, 2013
2013 Latin America Digital Future in Focus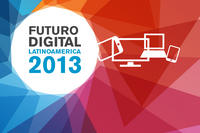 The rapidly evolving digital landscape made 2012 an exciting year for consumers and businesses. This webinar will examine how these changes including the latest trends in social media, online video, digital advertising, mobile and e-commerce are currently shaping the Latin American digital marketplace and what that means for the coming year.
Alejandro Fosk, comScore Senior VP Latin America, presents key insights from the 2013 Latin America Digital Future in Focus on May 28th at 12:00pm Eastern Time (12:00pm Santiago). This session will be broadcasted in Spanish.
Below is a preview of some of the trends we'll cover:
Of the five global regions, Latin America had the fastest growing internet population, increasing 12 percent in the past year to more than 147 million unique visitors in March 2013.
Consumers in Latin America spent 10 hours online per month on Social Networking sites, doubling the global average time spent; 5 of the top 10 most engaged markets with social content worldwide are located in Latin America.
Online Advertising is on the rise in Brazil, growing 97 percent the past year to 130 billion display ad impressions delivered in March 2013. Netflix, Inc. was the largest display advertiser in Brazil and Mexico with 2.7 billion and 463 million ad impressions delivered during the month, respectively.