July 15, 2011
Attributing Brand Advertising Effectiveness
Traditional methods of attributing the effects of digital advertising, such as last-click (commonly used to measure the impact of direct response advertising) and last exposure (commonly used to measure the impact of branding advertising) rely on overly simplistic, flawed methods. This means that insights are often inaccurate and not actionable for marketers, agencies and publishers.
comScore has developed a methodology, currently being applied to AdEffx Brand Survey Lift™ studies in the United States, called Smart Lift Attribution Model, which overcomes many of the shortcomings associated with 'last exposure' measurement approaches. Specifically, this model:
Accounts for all exposures, including those prior to, and following, the survey experience.
Accounts for exposures delivered until the point in time a survey was taken but also throughout the duration of the campaign.
Allows for a more granular analysis of the data than other market solutions, providing more actionable and valuable results.
Measures the absolute and relative lift contribution by these various variables.
Check out this infographic to get a better understanding of how it works and what this means for you and your business: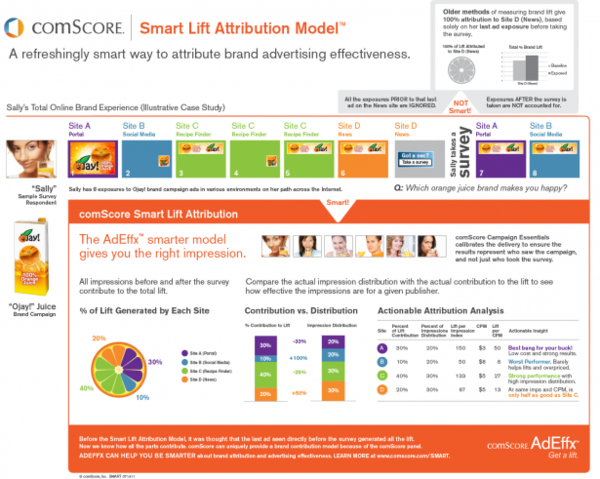 Related Products
Brand Survey Lift™ (BSL™) measures the overall branding impact of a campaign as well as the specific lift contribution by publisher, data provider and creative.
Learn More