February 8, 2012
Inaugural Look at Brazil Display Ad Market Shows Facebook Leading as Top Publisher
The first look at Brazil's display advertising market found that both global and local brands ranked among the top display ad publishers during December 2011 with Facebook.com leading the market.
Facebook.com ranked as the top display ad publisher in Brazil during the month of December with 11 billion display ad impressions (17.4 percent market share) reaching 33.1 million people online. Globo ranked second serving nearly 8.9 billion display ads (14.1 percent share), followed by UOL with 7.7 billion display ads (12.2 percent share) and Terra – Telefonica with 7.2 billion ad impressions (11.4 percent share).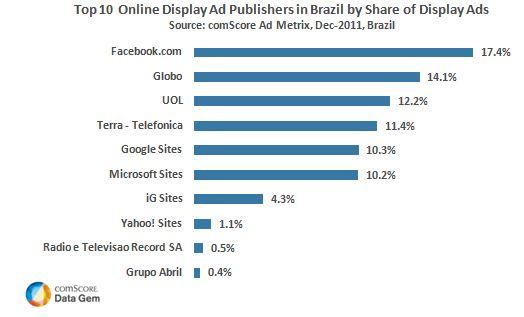 Related Products
comScore Ad Metrix® provides competitive intelligence for tracking display advertising, reporting on key person-based metrics and uncovering unique contextual insights.
Learn More