March 1, 2012
Social is Key to the Online UK Ad Landscape
In the UK, Facebook.com carried more display ad impressions than any other online publisher during January 2012, with more than 17 billion display ad impressions, representing 24.0 percent market share. Yahoo! Sites ranked second with over 4 billion impressions (5.6 percent), followed by eBay with nearly 3.8 billion impressions (5.3 percent).
Virgin Group was the top online display advertiser during the month with nearly 1.2 billion impressions (1.6 percent of UK display impressions). British Sky Broadcasting held the second position with over 1.09 billion (1.5 percent), followed closely by the BT Group, with 1.08 billion (1.5 percent) display ad impressions delivered.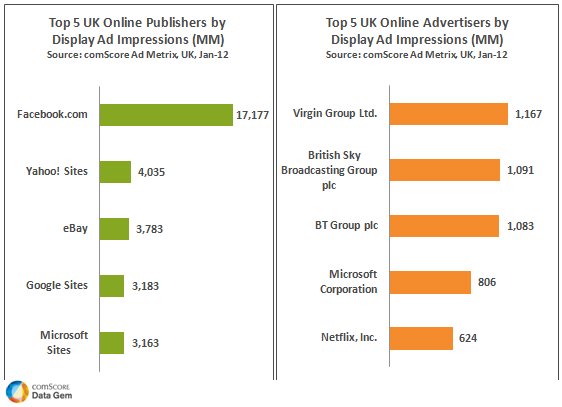 Related Products
comScore Ad Metrix® provides competitive intelligence for tracking display advertising, reporting on key person-based metrics and uncovering unique contextual insights.
Learn More