April 26, 2012
Tablet Competition Heats Up: Kindle Fire Captures more than Half of U.S. Android Tablet Market
The Kindle Fire, introduced to the market in November 2011, has seen rapid adoption among U.S. buyers of tablets. Within the Android tablet market, Kindle Fire has almost doubled its share in the past two months from 29.4 percent share in December 2011 to 54.4 percent share in February 2012, already establishing itself as the leading Android tablet by a wide margin.
For more insights on the tablet market, please visit our latest report with insights from comScore's Device Essentials service.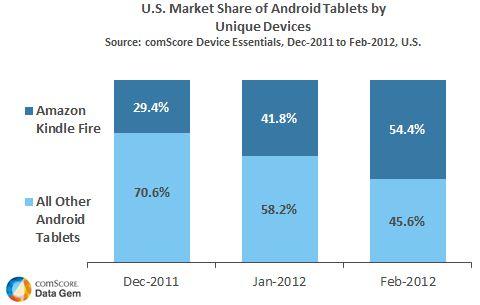 Related Products
comScore Device Essentials™ is the only solution of its kind to provide insight into unique digital device usage across the globe, offering detail into device characteristics,...
Learn More