April 14, 2010
The 2010 Online Auto Insurance Report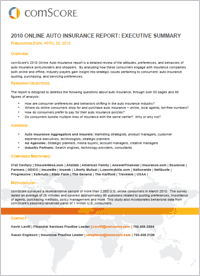 comScore's 2010 Online Auto Insurance report is a detailed review of the attitudes, preferences, and behaviors of auto insurance policyholders and shoppers. By analyzing how these consumers engage with insurance companies both online and offline, industry players gain insight into strategic issues pertaining to consumers' auto insurance quoting, purchasing, and servicing preferences.
The report is designed to address the following questions about auto insurance, through over 50 pages and 60 figures of analysis:
How are consumer preferences and behaviors shifting in the auto insurance industry?
Where do online consumers shop for and purchase auto insurance – online, local agents, toll-free numbers?
How do consumers prefer to pay for their auto insurance policies?
Do consumers bundle multiple lines of insurance with the same carrier? Why or why not?
By: Kevin Levitt, Susan Engleson
Tags:
Finance