April 5, 2012
2012 Online Marketing Effectiveness Benchmarks for the Pharmaceutical Industry
Download Whitepaper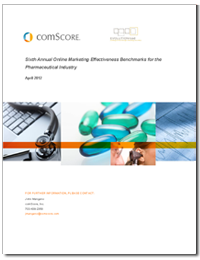 To get a copy of the whitepaper, please click on the link above and fill out the form. You will receive a copy of the paper in 24 hours.
Over the past few years, the U.S. online audience has increasingly turned to health sites to research various conditions and prescription drugs, making the health category one of the fastest growing areas online. Consequently, marketers in the health and pharmaceutical industry have an even greater opportunity to tap into these digital behaviors to develop brand awareness, drive online visitation, and increase sales.
To provide insight into the metrics that validate digital advertising efforts, comScore, Inc., in conjunction with Evolution Road, is releasing the sixth annual Online Marketing Effectiveness Benchmarks for the Pharmaceutical Industry. These benchmarks provide the scope and quantitative data to develop a more comprehensive understanding of the actual impacts of online marketing activities within the pharmaceutical industry.
By: John Mangano
Tags:
Pharma