Press Release
comScore Wins IBM 2014 Beacon Award for Big Data and Analytics: Analytics Innovation
RESTON, VA, February 20, 2014 – comScore, Inc. (NASDAQ: SCOR), a leader in measuring the digital world, today announced that the company was named winner of the 2014 IBM Beacon Award for 'Big Data and Analytics: Analytics Innovation' at the IBM PartnerWorld Leadership Conference in Las Vegas for the joint partner solution combining comScore's enterprise analytics platform, Subscriber Analytix with IBM's data network, PureData for Analytics.
With two successful Tier 1 mobile operator deployments in North America and Asia, the partnership between comScore and IBM has proven that the joint solution drives direct business value and results for clients.
"Working with IBM allows comScore to provide its Subscriber Analytix™ solution in a cutting-edge data network environment," said Steve Durante, Senior Vice President of Telecom Sales at comScore. "As a result, the partnership has already produced several dynamic client installations. To be recognized by IBM as a Beacon Award Winner is an honor and reaffirms the value of our combined offer."
"The Beacon Awards are a central and vital element of IBM's Business Partner recognition program," said Marc Dupaquier, General Manager, IBM Global Business Partners. "Recipients of these awards exemplify the ability to deliver business value to clients through innovative solutions, technical excellence and industry expertise. The winners of this year's Beacon Awards are Business Partners who not only delivered superior innovation through their award winning solution, but also offered unique client value by using their skills and expertise to deliver the business capabilities their clients need to achieve success in their own business ventures."
The IBM Beacon Awards recognize IBM Business Partners globally for their excellence and advanced solutions using IBM products and services. By delivering exceptional solutions proven to drive business value, Beacon Award winners help transform the way their clients, their industries and the world do business.
About the comScore and IBM Partner Solution
comScore and IBM have created a matchless competitive advantage for mobile operators by capturing value from subscriber experience and behavior across Network, Care and Marketing assets. comScore's unique Subscriber Analytix™ enterprise software platform is supported by IBM's data network, PureData for Analytics and Pure Flex framework and complemented by IBM's distinguished expertise in Professional Services. This joint solution enriches mobile operator data streams with comScore's proprietary digital categorization and segmentation and delivers a complete subscriber-level view of behavior that empower business users with actionable, near real-time intelligence at scale. Proven advantages of this solution include decreases in Subscriber churn, Average Call Handling Times (AHT) and handset returns as well as increased Quality of Service for Data, Voice and SMS across a Carrier's full subscriber base.
About comScore
comScore, Inc. (NASDAQ: SCOR) is a global leader in digital measurement and analytics, delivering insights on web, mobile and TV consumer behavior that enable clients to maximize the value of their digital investments. For more information, please visit www.comscore.com/companyinfo
About IBM Business Partners
To learn more about PartnerWorld, a comprehensive program that offers marketing and sales resources, training, certification and technical support to help create new revenue and market opportunities for IBM Business Partners, visit http://www.ibm.com/partnerworld.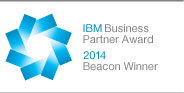 Contact:
Julie Parke
comScore, Inc.
+1 (703) 234-2663
jparke@comscore.com
Follow @comScore