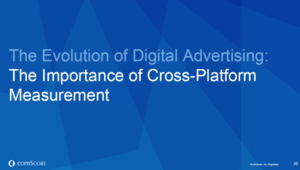 The Evolution of Digital Advertising
Download now
comScore Chairman Emeritus and Co-Founder, Gian Fulgoni, is the keynote speaker, delivering an address on the state of the local search market in relation to the multi-platform consumer boom.
Read More
comScore will present new research focusing on how the digital omnivore engages with financial institutions, banks and online spend in an increasingly mobile world. Not all mobile interactions are created equal, and this session will help describe the differences between tablet and smartphone as well as mobile web and mobile applications to help FIs better position their mobile solutions.
Read More
---
Whitepaper
Jun. 13, 2013
|
Share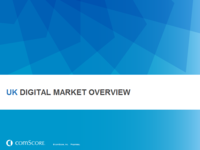 Britons surfing the web via PC remained strong at 44.6m unique users, with video consumption growing slightly month on month. Read more
By:
Ayaan Mohamud
Tags:
Demographics
,
Mobile
,
Multi-Platform
,
Video
,
Rankings
,
Press Release
Jun. 4, 2013
|
Share
comScore, Inc. (NASDAQ: SCOR) today announced its commitment to rolling out a full suite of audience measurement and advertising analytics services in The Netherlands. This follows the successful launch of comScore Media Metrix Multi-Platform™ in the US and UK, and the global success of validated Campaign Essentials™. With the dissolution of STIR,... Read more
By:
Hélène Azevedo
Tags:
Ad Validation
,
Audience Measurement
,
Multi-Platform
,
Video
Video
Jun. 3, 2013
|
Share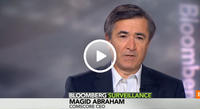 Magid Abraham, CEO and Co-Founder of comScore, and Brian Wieser, Senior Research Analyst at Pivotal Research Group, discuss the growth of video advertising on Bloomberg Television's "Bloomberg Surveillance." View
Featuring:
Magid M. Abraham, Ph.D.
Tags:
Advertising
,
Facebook
,
Video
Press Release
May. 22, 2013
|
Share
comScore, Inc. (NASDAQ: SCOR) today released data from the comScore Video Metrix service showing that 181.9 million Americans watched 38.8 billion online content videos in April, while the number of video ad views reached an all-time high at 13.2 billion. Read more
By:
Andrew Lipsman
Tags:
Ad Impressions
,
Advertising
,
Engagement
,
Google
,
Video
,
Rankings
, , ,
YouTube
Presentation
May. 17, 2013
|
Share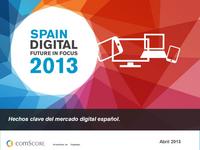 2012 was an important year for the devices´ diversification used for digital consumption, overall for the mobile devices. Read more
By:
Jaime Agulló
Tags:
Android
,
Apple
,
Audience Measurement
,
Demographics
,
e-Commerce
,
Email
,
Engagement
,
Facebook
,
Google
,
Internet Use
,
iOS
,
iPad
,
iPhone
,
Media & Entertainment
,
Mobile
,
Video
,
Retail
,
Smartphone
,
Social
,
Tablets
,
YouTube
Whitepaper
May. 16, 2013
|
Share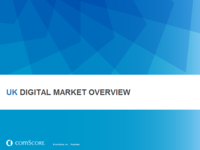 44.6 million Britons surfed the web via their PC in March 2013 (+0.5% on February), almost 37 million internet users viewed video content online (+1.8% on February) and over 27 million users browsed on-network from mobiles Read more
By:
Ayaan Mohamud
Tags:
Demographics
,
Mobile
,
Multi-Platform
,
Video
,
Rankings
,
Press Release
May. 6, 2013
|
Share
comScore, Inc. (NASDAQ: SCOR) today released the latest comScore Video Metrix report showing that total online video consumption has doubled in the past two years to 3.7 billion videos per month. This dramatic growth has been driven by a sizeable increase in the number of online video viewers, in addition to increasing consumption per viewer. The total... Read more
By:
Amarpal Singh
Tags:
Advertising
,
Media & Entertainment
,
Video
,
Rankings
,
YouTube
Press Release
May. 2, 2013
|
Share
comScore, Inc. (NASDAQ: SCOR) today announced it is collaborating with BrightRoll, the largest independent video ad platform, to bring audience guarantees to BrightRoll clients via comScore's validated Campaign Essentials (vCE) product suite. The collaboration provides publishers, advertisers and agencies with meaningful insights into the reach,... Read more
By:
Andrew Lipsman
Tags:
Ad Impressions
,
Ad Validation
,
Advertising
,
Video
Blog
Apr. 25, 2013
|
Share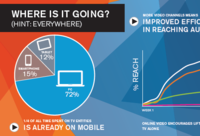 At the NewFronts, everyone will be looking to decipher the dynamics of this increasingly multi-platform world we live in, where the lines between TV and digital video, and premium and non-premium content, are blurring. Once requiring a cable hookup, TV shows are now being watched on computers, tablets, smartphones and game consoles. And while YouTube... Read more
By:
Carmela Aquino
Tags:
Advertising
,
AOL
,
Microsoft
,
Multi-Platform
,
Video
,
TV
,
Yahoo
,
YouTube
Press Release
Apr. 25, 2013
|
Share
comScore, Inc. (NASDAQ: SCOR) today announced that Procter & Gamble has agreed to partner with comScore on its validated Campaign Essentials (vCE) capability. vCE is a holistic ad delivery validation solution that provides deep campaign insights, in-flight reporting, and daily alerting for convenient and effective campaign management. Read more
By:
Andrew Lipsman
Tags:
Ad Impressions
,
Ad Validation
,
Advertising
,
Video