An ad that never had an opportunity to be seen by its target audience can't deliver its intended impact. Nor can an ad that was delivered in the wrong geography, next to questionable content or subject to invalid traffic.
"

comScore's new validated Campaign Essentials product is a step forward in addressing several fundamental issues surrounding the current state of counting online ad impressions. comScore's introduction of validated ad impressions and vGRPs is aligned with the 3MS recommendations of moving the industry to a viable impression standard. vCE is an innovative solution that adds a level of transparency that is welcomed.
John Kahan
GM, Data & Analytics
Microsoft's Online Services Division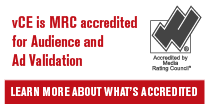 validated Campaign Essentials (vCE) is a holistic ad and audience delivery validation solution that delivers real-time insights to improve the performance of advertising campaigns – for display, video and mobile devices.
Unlike existing single-point solutions, vCE provides an unduplicated accounting of impressions delivered across a variety of dimensions, such as ads delivered in-view, in the right geography, in a brand safe environment and absent of non-human and invalid traffic. It also evaluates the degree to which validated impressions reached the campaign target audience.
As much as 40% of digital video campaigns can be originating from non-human or fake traffic, says Anne Hunter in an interview with Beet.TV at the 4As' (American Association of Advertising Agencies) Transformation 2015 event in Austin, Texas. The problem has intensified with the growth of digital video advertising.
To learn more about how comScore can help you compete and succeed in the digital world, contact us today.