the power of combined TV and Digital
NOW YOU CAN SOLVE FOR
X
COMSCORE XMEDIA™:
Unduplicated audience measurement across TV content and digital media in a single tool. Create media packages to analyze cross-platform reach, engagement and audience overlap. See how Xmedia delivers measurement that matches the way people actually consume content – on TV AND digital.
"

It's a major industry milestone for comScore to deliver measurement of unduplicated reach for video, audio, and static/interactive content and ads across both linear and time-shifted TV, radio, computers, smartphones, and tablets.

"
Jane Clarke,
CEO and Managing Director,
CIMM
COMSCORE XMEDIA DELIVERS A TOTAL VIEW
OF YOUR CONSUMER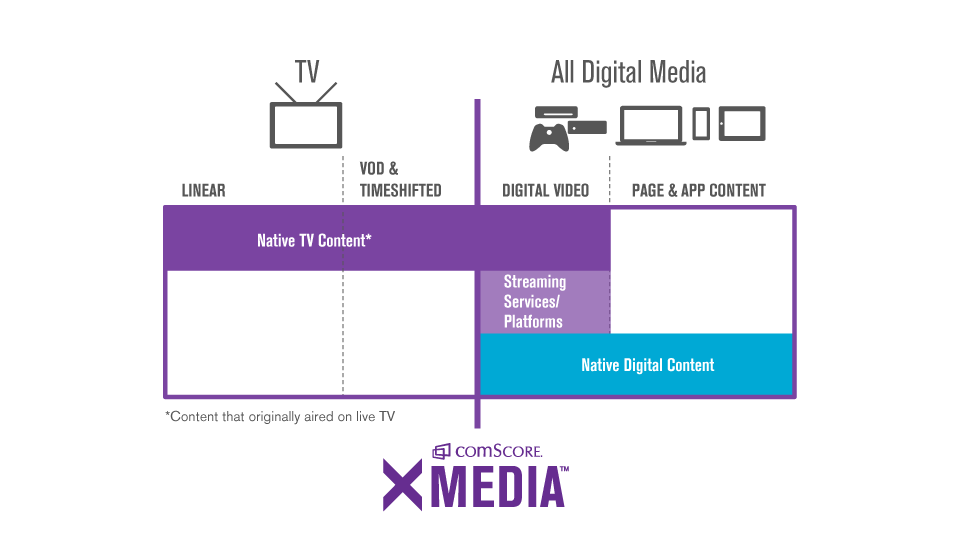 Xmedia is currently available in the US. Outside of the US, comScore has entered into a strategic partnership with Kantar Media to bring cross-media audience and campaign measurement solutions to markets across the globe. Learn more here.
Learn More
To learn more about comScore Xmedia, please fill out the form below.
comScore, Inc. will use the information you submit below to fulfill your request and may contact you for commercial purposes. You can unsubscribe at any time. Please read our privacy policy (
http://www.comscore.com/PrivacyPolicy
).