Total Home Panel
Capture device usage and content consumption across the connected home
comScore Total Home Panel™ is a breakthrough, single-source measurement solution that measures consumer behavior across home network-connected devices, enabling clients to better understand cross-platform media consumption and consumer engagement with technology.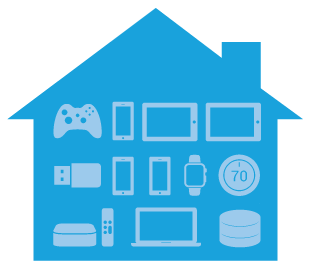 12,500+ households
150,000+ devices every month
Nationally-distributed sample
Measures across an array of devices – from traditional and enduring to new and emerging.
comScore Total Home Panel insights power three solutions.
comScore OTT Intelligence comScore Connected Home Custom Reports and Raw Data Feed
OTT Intelligence
comScore OTT Intelligence™ provides clients with critical insight into consumer over-the-top (OTT) streaming activity on TV-connected devices, including smart TVs, streaming sticks and boxes, gaming consoles, and connected Blu-ray Disc players.
With comScore OTT Intelligence, subscribers get access to a variety of household and household member demographics, including age, gender, income, ethnicity, household size, MVPD and cord cutter status.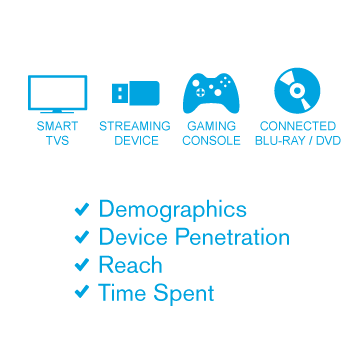 Leverage OTT streaming insights to capitalize on emerging trends
Get a cross-platform view.
Pair comScore Video Metrix® data with OTT Intelligence insights for a better, more comprehensive understanding of OTT consumption.
Measure SVOD & AVOD consumption.
Understand reach and time spent for major subscription and ad-supported video-on-demand services (SVOD / AVOD).
Analyze the competitive landscape.
Leverage competitive insights to track and analyze OTT adoption, growth, device penetration, audience cross-over, and user loyalty.
Connected Home
comScore Connected Home™ offers adaptive, flexible measurement for the connected future by measuring behavior across every network- or router-connected device in the home, enabling clients to better understand consumer engagement with technology and media.
With Connected Home, subscribers get access to a variety of device and audience metrics through an intuitive, web-based user interface with flexible reporting capabilities.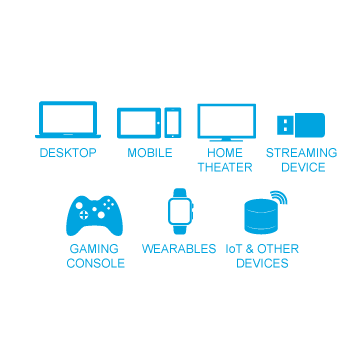 Understand how consumers are engaging with technology in their homes
Analyze the competitive landscape.
Analyze and compare household penetration, usage frequency, engagement, OEM and OS market share and activity across all device types.
Enhance audience profiles.
Supplement granular device-centric data with household-level demographic insights such as age, gender, race, ethnicity, presence of children, size, income and education level.
Monitor emerging technology.
Analyze the adoption and growth of emerging technology, including devices not primarily used for media consumption like IoT devices.
Custom Reports & Raw Data Feed

Interested in leveraging Total Home Panel data to meet specific campaign or audience measurement needs?
Contact us today to request a deeper dive into our Total Home Panel data.
Ready to learn more?
Contact us today to learn how comScore can help you.
Contact us