because it's show time
all the time.
Video Metrix Multi-Platform: unduplicated, digital video measurement
Digital video is everywhere, and consumers want to watch shows anytime, anywhere. As content continues to flow across an increasing number of screens, content owners and advertisers need a consistent, trusted way to transact in a platform-agnostic world. comScore Video Metrix® Multi-Platform delivers a single, unduplicated measure of digital video consumption across desktop, smartphone, tablet and over-the-top (OTT) devices. Premium video content and advertising can be planned, bought and sold across platforms using TV-comparable GRP metrics that measure audience engagement.
"

With our many distribution platform partners, Hulu users create hundreds of ways to watch Hulu. Hulu has always followed our users wherever they go – we need the measurement community to follow them too. We're excited that comScore is making strides to lead us into the next generation of audience measurement and we are proud to be part of the momentum.

"
Peter Naylor,
SVP Advertising Sales,
Hulu
Measure, Plan and Purchase Digital Video
where you know people are watching.
Measure growing digital audiences at the video media property and show level.
Compare to linear TV audiences in scale, composition and GRPs.




Know the incremental reach
of your total digital audience.
Measure incremental audience reach by adding smartphone, tablet and OTT devices.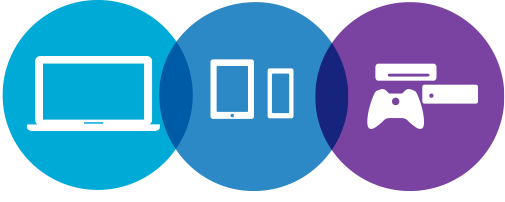 make your audiences, content and advertising
more valuable.
Analyze content by demographics to understand differences by device.
Capture video engagement on advertising versus content. "

With content flowing across screens, a new approach to video measurement was needed to better understand how and where video is being viewed – especially on OTT.

"
Eric Berger,
EVP Digital Networks,
Sony Pictures Television & GM Crackle
Content owners
Measure
Unduplicated Reach & Demography
Package
Cross-Platform Video Inventory
Sell
Show-Level GRPs
Measure the Total Digital Video Reach for your video content. Understand audience engagement across platforms.
Benchmark against competitors. Show more with Video Metrix Multi-Platform.
"

The Video Metrix Multi-Platform Beta data has already offered us unique data insights into our mobile video engagement. It is great that comScore is leading the industry in this next stage of measurement and we are excited to continue working with this new product so that we are able to examine where our audience is engaging most with our content, no matter what device is being used.

"
Don Wilcox,
VP of Marketing & Services,
PBS Digital
Agencies & Advertisers
Find
Video Audiences by Device
Plan
Video Campaigns across Platforms
Buy
TV-Like GRPs
Find the best video properties to meet your campaign objectives. Create smarter multi-platform campaigns.
Find the right content or platform to reach your target audience. Know more with Video Metrix Multi-Platform.
Demystify the multi-platform consumer
with single, unduplicated metrics.
Gain a complete view of digital media consumption with comScore multi-platform measurement.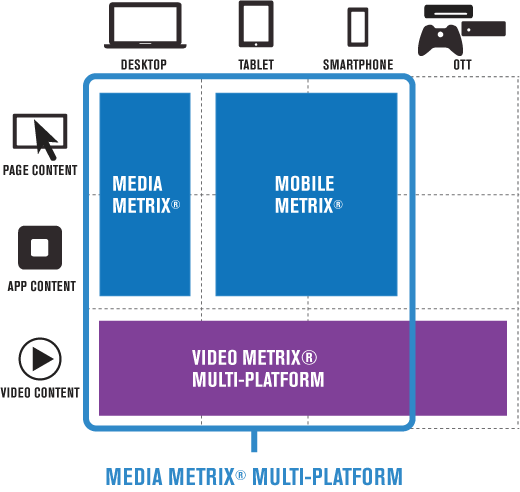 Video Metrix Multi-Platform feeds into Media Metrix Multi-Platform to enable holistic digital media measurement like no other. Video Metrix Multi-Platform solves for the challenge of delivering a single, unduplicated metric for digital video audiences across all platforms by leveraging the methodology and inputs from Media Metrix® Multi-Platform and Mobile Metrix®.