2014年5月5日
Digital Analytix Focus: A Simplified User Interface for Actionable Business Insights
comScore Digital Analytix® Enterprise combines the best of analytics and audience demographics to give you unparalleled data access and visibility into the characteristics of your entire user base. With endless possibilities for data mining, users most commonly stem from analytical, data marketing, or engineering departments.
The Digital Analytix Focus user interface allows both casual and power users to jump right into frequently requested reports and data, making it easier to discover actionable business insights.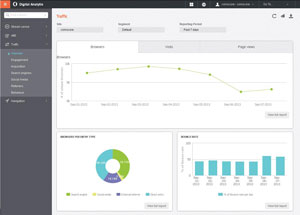 Get the Data You Need
Expert analysts and novice users alike can quickly access pre-formatted reports from an intuitive left-hand navigation menu that directly launches report generation and includes a progress bar to display completion status. To view advanced and/or associated data, a variety of drill-down options are just a click away, allowing the user to take a deeper dive into the supporting data.
"This user-friendly interface allows more people within the organization the ability to easily access their data and reports," stated Jodi McDermott, Group Vice president of Product Management. "Its intuitive design and clean data visualizations deliver actionable business insights to both the casual and power user."
Data That's Easy to Access & Understand
Report results are illustrated through the use of bright, easy-to-read charts and visuals with built-in flexibility. Users can easily apply a different site or a segment to the report, change the reporting period, or even compare results from multiple time periods -- all in one view -- through the use of drop-down options, clickable data points, and familiar tools like visual calendars.
Make Your Data Work Around You
Multiple work spaces within Digital Analytix Focus allow reports to be "parked" in their own space, and will continue to run in the background. Meanwhile, users can continue to navigate through the UI without having to wait for individual report generation. When complete, users can toggle through active work spaces for ease of viewing and report comparison.

About Digital Analytix Enterprise
Digital Analytix Enterprise provides the platform and tools to help you discover, analyze and communicate key business insights. With access to the full spectrum of features, Enterprise is your solution to unlock your data and find the most granular insights to maximize the value of your digital investments. For more information, click here.