2014年5月16日
Understand Campaign Delivery Beyond Demographics with vCE Behavioral Segments
While digital media – like traditional media – has historically been bought and sold based on a content property's ability to reach a specific demographic audience, advertisers have increasingly turned to more sophisticated audience and behavioral targeting strategies. A remnant metric from TV ratings, TRPs are a necessary tool for cross-campaign analysis, but not a sufficient one. Digital media can go further to align with marketers' true goals by providing measurement tools that evaluate the actual effectiveness of targeting the behaviors, and not just demographics, of their audience.
Behavioral Verification Illuminates Otherwise Unseen Aspects of Campaign Performance
Behavioral data provides valuable insight on target audiences that demographics alone cannot, and it can help shed light on campaign performance that might otherwise go unseen. But for behavioral data to be effective, it must be high quality. Too often, behavioral targeting data is based on cookies, which have a variety of quality issues because of cookie inference, spurious data sources and multi-person computers.
comScore's behavioral segments are determined by the observed online activity of our 2-million-person global panel, which offers significantly greater accuracy than cookie-based segments. validated Campaign Essentials™ 2.0 (vCE® 2.0) offers 80+behavioral categories, which are aligned across our products so the segments you see in vCE to evaluate the success of your campaigns are the same segments you will find in MMX as you plan your media buy against your target audiencesThey will soon also be incorporated into vME so that publishers and ad networks can view the same data that media buyers will use to evaluate them.
Let me walk you through an example of how an advertiser used behavioral analysis to get a better read on their campaign.
Recently, a CPG client launched a digital ad campaign for a popular ingredient used in many recipes throughout the summer. Traditionally, this type of a campaign targeted Women 25–54 years old, and so the advertiser selected that as the primary target audience on which to evaluate delivery performance. Measured using vCE, the campaign delivered 46% of the campaign impressions to this target demographic, two percentage points higher than the average in-target rate from our latest vCE Benchmarks. On these metrics alone, it would appear that the campaign performed reasonably well, but nothing out of the ordinary.
In addition to evaluating in-target delivery, the client was also able to evaluate campaign delivery based on the audience's online behaviors. In doing so, they found that 70% of the consumers reached by their campaign were heavy visitors of online recipe sites – a behavior that might make them significantly more likely to buy the product.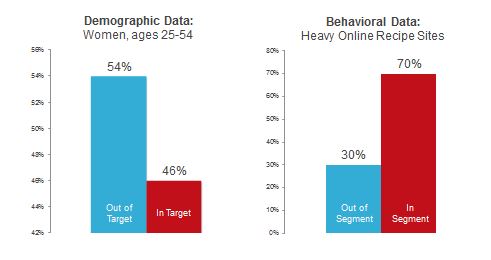 Having this additional data helps to fill in some gaps about the 54% of consumers reached by the campaign who were outside of the primary target. It suggests that many of those reached by the campaign – regardless of their age and/or gender – have interest in cooking due to their frequent visitation and engagement with online cooking sites and thus might be qualified targets for the advertised product or brand. By simply evaluating delivery based on demographic data alone, these valuable consumers would have been ignored. But by knowing that the ad campaign delivered 70% of its impressions to consumers whose interests aligned with the product provides much greater assurance of a successful campaign.
The Value of Behavioral Data
Using behavioral segments to evaluate your ad campaign brings you closer to your consumer. While age and gender are often used as a proxy for a specific interest, behavioral segments provide direct measurement of online activity in line with those interests. vCE clients use these behavioral segments to understand the quality of their media plans and to identify exceptional performance by their publishers – insights that age and gender alone may not provide.
The deeper knowledge of ad performance given by behavioral segments is valuable for agencies, advertisers and publishers alike as the industry aims to accomplish one of its primary goals: to reach consumers with ads that are relevant and interesting in order to improve brand perception and purchase behaviors. Knowing the consumers' interests and behaviors are a great step in that direction.
関連製品
キャンペーンをより深く分析できるレポーティング機能とキャンペーンを成功に導くための各種機能を備えた、総合的な広告効果測定ツールです。
詳細