March 23, 2016
Combating Fraud to Drive ROI: A Kellogg and Krux Case Study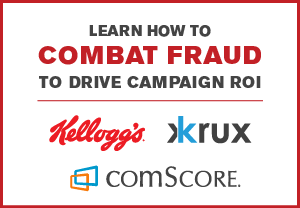 Fraud has taken an undeniable toll on the digital media industry, costing billions of dollars in wasted advertising budgets. Even relatively low levels of fraud on a campaign can mean massive amounts of waste – especially for a large advertiser like Kellogg.
In this case study, learn how Krux and comScore partner to help Kellogg improve advertising outcomes, including:
Reducing invalid traffic across its brands
Automating optimization away from IVT
Saving $2 million dollars in wasted ad spend
Download the case study now to get a first-hand look into the strategy behind Kellogg's innovative approach to advertising optimization.
Related Products
comScore validated Campaign Essentials™ (vCE®) is a holistic ad and audience delivery validation solution that provides deep campaign insights, in-flight reporting and...

Learn More
Learn more about
comScore provides sophisticated detection of non-human traffic that goes beyond the standard filtration required for industry accreditation. The recent acquisition of MdotLabs...
Learn More