- November 2, 2015
75% of Millennials in Brazil Either Access the Internet on Multiple Platforms or Exclusively on Mobile
More than ever, audiences are consuming content across platforms, especially on mobile. In order to deliver the right message to each audience, consumer habits across these platforms and different types of content need to be understood. These insights can allow agencies, publishers and advertisers to know where consumers spend the most of their time and, ultimately, recognize the true value of mobile.
Overall, we've seen that 41 percent of the total digital population in Brazil already accesses digital content through more than one platform – showing that Brazilians are approaching a multi-platform majority. Specifically, mobile had a huge impact on the Social Media category with 61 percent of social media users accessing via mobile in a month, while Weather is the biggest category in terms of exclusive mobile access.
Here's additional insights into how categories' audiences have migrated to multi-platform and mobile at varying rates: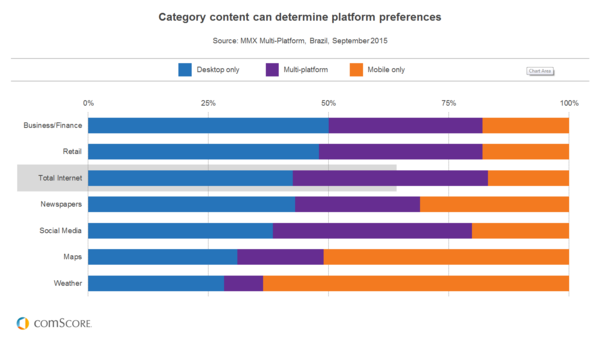 Analyzing multi-platform behaviors can help advertisers understand mobile reach in different content areas, with multiple demographic breakdowns to guarantee the best performance across platforms.
To understand what else you can – and should – learn from our MMX Multi-Platform data:
or .