comScore is the global standard for box office reporting – precisely measuring movie viewership from more than 95% of the worldwide box office.
comScore PostTrak™ exit polling service reports audience demographics and the aspects of each title that trigger interest and attendance – all in real time.
Using information gathered in movie theater exit polls conducted on all movies in their first and second weeks of wide release, PostTrak combines comScore's census-level box office metrics with partner Screen Engine's monitoring of audience composition and post-opening results, to deliver a
transparent, 360-degree view of a movie's performance and its viewers – including overall audience reaction and specifics like gender, ethnicity and age.
With PostTrak, users can discover how moviegoers became aware of a movie, their primary reasons for attending, how the film compared to their expectations, their urgency to tell others about the movie and whether or not they plan on purchasing or renting the movie on DVD/Blu-ray Disc or
Video on Demand. PostTrak clients can ultimately use this service to better leverage opening weekend audience reactions and decide how to adjust messaging with greater immediacy using real-time box office and polling data.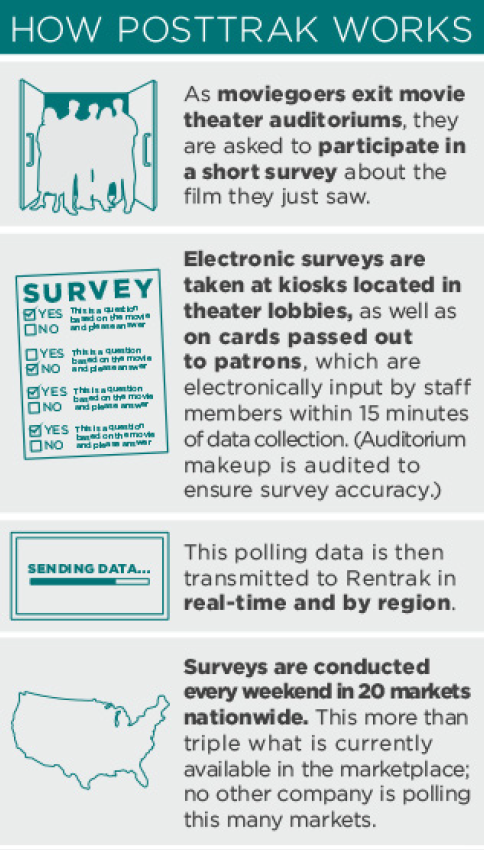 What did they think?

Predict future ticket sales and project DVD, rental and Video on Demand profits more accurately.
Search by gender, ethnicity, age and overall audience reaction.
Get insight into a movie's longevity.
Monitor 20 demographically representative markets nationwide.
Access exclusive audience information.
Data universally collected in weeks one and two.
Ready to learn more?
Contact us today to learn how comScore can help you.
Contact us