- 2012年10月22日
The iPhone Effect: How the iPhone 5 is Making Waves through the Smartphone Market
This post was co-authored with Matt Hall, Senior Analyst, Custom Analytics. See the accompanying infographic for this piece by Stephanie Nguyen on the Data Mine.
In a recent blog post, we shared Comscore data showing how the iPhone 5 reached the same level of online sales in its first 3 days of availability that the iPhone 4S did in its first month. Apple's own announcement confirmed this early sales momentum, indicating that it had sold more than 5 million iPhone 5s by the end of its opening weekend, making the iPhone 5 the fastest-selling iPhone to date for carriers like AT&T. Given the fanfare and interest with which the iPhone has hit the market, it should not be a surprise that we are seeing evidence of some interesting ripple effects throughout the smartphone ecosystem.
The Makings of a Perfect Storm: A Rising Tide Lifts All (Smartphone) Boats
Comscore data show that more than two million iPhone 5 devices were purchased within the first 24 hours of pre-ordering, with most consumers purchasing directly from the comfort of their own homes. Other eager Apple enthusiasts jockeyed to be among the first in line to get their hands on the latest iPhone, waiting hours – and in some cases, nights – for these devices to hit the shelves at Apple stores on September 21. Unsurprisingly, the device quickly sold out.
As sales for the iPhone 5 skyrocketed in the immediate wake of its launch, a formidable Apple competitor also saw a strong bump in its sales. Samsung experienced a 50 percent increase in average U.S. weekly online orders for the latest iteration of its flagship smartphone, the Galaxy S III, during the week following the iPhone 5 launch. We also saw this momentum manifest itself in the number of Galaxy S III search engine queries, which not only reached a peak during the same week as the iPhone 5 launch but even surpassed the number of search queries during its own launch earlier this summer.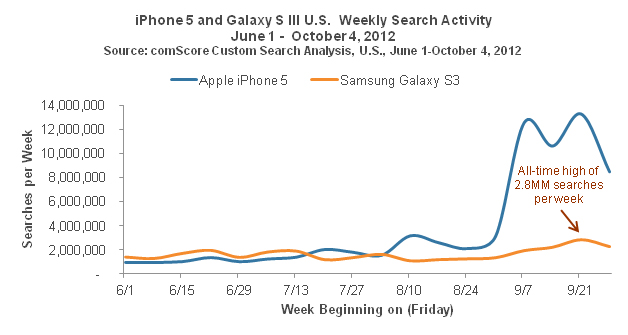 So why did Apple's competition seemingly receive a boost from the iPhone 5 release? We can hypothesize that all the buzz surrounding the latest iPhone release might have piqued consumer interest about smartphones in general, causing consumers to research other top-selling devices such as the Galaxy S III. But part of the lift we're seeing for the Galaxy S III might also be due to the well-executed commercial campaign launched by Samsung at around the same time, which positioned directly against the "cult-like" feel of Apple product launches while highlighting the Galaxy's technological advantages over the iPhone. Another factor that may have also played a role was the backlash to Apple's decision to cast aside Google Maps in favor of Apple's new native mapping app.
Rumbling in the Distance: The iPhone Accessory Market
Suppose you were one of the lucky millions who were able to score the iPhone 5. What's next on the horizon? Unless you're one of the rare few who prefer to carry around a "naked" iPhone, it's time to accessorize. You might decide to purchase a new case to make it uniquely yours or get a screen protector to protect every inch of your display. Then, there are car chargers, an extra set of headphones, or even those new EarPods to consider.
And if those were your next purchases, then you aren't alone. Comscore's recent e-commerce data suggests that in the latter half of September 2012 total iPhone accessory sales surpassed those of October 2011 when the iPhone 4S was launched. In other words, it only took a fraction of the time for iPhone accessory sales following the iPhone 5 to reach the levels that they hit following Apple's last iPhone launch.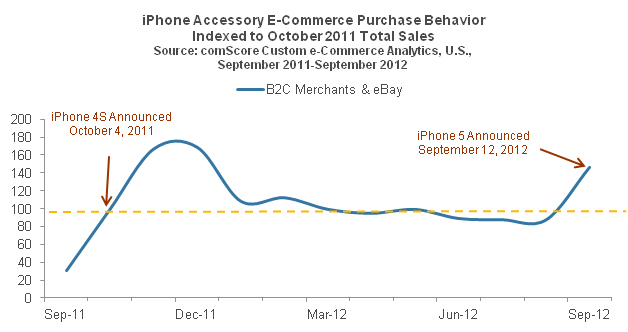 It should be noted that this huge bump in accessory sales likely comes as more than just a result of record-breaking device sales. The iPhone 5 departs from the traditionally smaller iPhone screen size and has new components that require owners to purchase brand new covers, and perhaps more controversially, new peripheral hardware.
A Lightning Strike Jolts Purchase of More Accessories
This metaphor has already gone too far, I know, but let's get serious for a moment. One of the biggest implications of the iPhone 5 release – and presumably all future Apple device releases – is that of the new Lightning connector. Lightning replaces the 30-pin dock connector of past iPods, iPads and iPhones with an all-digital 8-pin connector that functions as a charger and data transfer bus.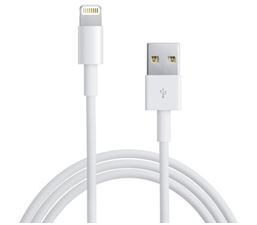 In one swift move, Apple rendered many of the current iPhone accessories all but obsolete. The only option you have available to use your favorite stereo dock or car charger is to purchase an adapter, currently available through Apple for $29-$39 dollars and at Amazon for as low as $13. It is interesting to note, however, that Comscore data show that for every ten iPhone 5 units sold online in September, only one Lightning adapter was sold. But that figure showed signs of increasing into the first week of October.
As we move towards what is projected to be another record-breaking holiday season for retail e-commerce, we can expect that new Lightning-compatible hardware will almost certainly be at the top of many people's wish lists.
Your holiday shopping just might have gotten a whole lot easier.