Cyber Monday Jumps 18 Percent to $1.735 Billion in Desktop Sales to Rank as Heaviest U.S. Online Spending Day in History
Early Cyber Monday Promotions Spur Huge 34-Percent Gain in Online Buying Over the Weekend
Full Thanksgiving-Cyber Monday Period Achieved Strong Growth Rate of 22 Percent vs. Year Ago
RESTON, VA, December 3, 2013 – Comscore (NASDAQ : SCOR), a leader in measuring the digital world, today reported holiday season U.S. retail e-commerce spending from desktop computers for the first 32 days of the November-December 2013 holiday season. For the holiday season-to-date, $23.9 billion has been spent online, marking an 8-percent increase versus the corresponding days last year (and a 25-percent increase if using the alternate comparison of the 4-week period preceding Thanksgiving).
Cyber Monday reached $1.735 billion in desktop online spending, up 18 percent versus year ago, representing the heaviest online spending day in history and the second day this season (in addition to Black Friday's $1.198 billion) to surpass $1 billion in sales. The weekend after Thanksgiving posted particularly strong growth online, raking in $1.594 billion in spending for an increase of 34 percent compared to the same weekend last year. For the five-day period from Thanksgiving through Cyber Monday, online buying from desktop computers totaled $5.3 billion, up 22 percent versus last year.
2013 Holiday Season To Date vs. Corresponding Days* in 2012
Non-Travel (Retail) E-Commerce Spending
Excludes Auctions and Large Corporate Purchases
Total U.S. – Home & Work Desktop Computers
Source: Comscore, Inc.

Millions ($)
2012
2013
Percent Change
Nov. 1–Dec. 2 (vs. Nov. 2-Dec. 3, 2012)
$22,048
$23,904
8%
Nov. 1–Dec. 2 (vs. Oct. 26-Nov. 26, 2012)
$19,183
$23,904
25%
Thanksgiving Day (Nov. 28)
$633
$766
21%
Black Friday (Nov. 29)
$1,042
$1,198
15%
Holiday Weekend (Nov. 30-Dec. 1)
$1,187
$1,594
34%
Cyber Monday (Dec. 2)
$1,465
$1,735
18%
Thanksgiving thru Cyber Monday
$4,327
$5,293
22%
*Corresponding days based on corresponding shopping days (November 2 thru December 3, 2012)
"Any notion that Cyber Monday is declining in importance appears to be completely unfounded as its strong year-over-year growth rate of 18 percent resulted in yet another record for online spending in a single day," said Comscore chairman Gian Fulgoni. "While it's true that many retailers are bleeding their Cyber Monday promotions into the weekend before and the days afterward, Cyber Monday itself continues to be the most important day of the online holiday shopping season. That said, we did also see evidence of early promotions pulling some dollars forward into the weekend, so it is possible that Cyber Monday could have even been stronger were it not for the emergence of this trend."
Top Gaining Product Categories for Thanksgiving-Cyber Monday Period
During the five-day period from Thanksgiving through Cyber Monday, Consumer Electronics ranked as the fastest-gaining product category versus year ago, followed by Video Game Consoles & Accessories, Home & Garden, Apparel & Accessories and Sport & Fitness.
Thanksgiving-Cyber Monday Period: Top Gaining Product Categories by Sales Growth
2013 vs. 2012
Total U.S. – Home & Work Desktop Computers
Source: Comscore, Inc.
Rank
Top Gaining Product Categories
1
Consumer Electronics
2
Video Game Consoles & Accessories
3
Home & Garden
4
Apparel & Accessories
5
Sport & Fitness
Shopping at Work Accounts for Nearly Half of Cyber Monday Spending
Nearly half of dollars spent online at U.S. websites on Cyber Monday originated from work computers (49.2 percent), up 2.1 percentage points from last year. Buying from home comprised the majority of the remaining share (43.5 percent) while buying at U.S. websites from international locations accounted for 7.2 percent of sales.
Breakdown of Cyber Monday Spending by Location
Cyber Monday 2013 vs. Cyber Monday 2012
Total U.S. – Home & Work Desktop Computers
Source: Comscore, Inc.
Cyber Monday 2012
Cyber Monday 2013
Point Change
Home
47.2%
43.5%
-3.7
Work
47.1%
49.2%
+2.1
International
5.7%
7.2%
+1.5
Total
100.0%
100.0%
N/A
"Cyber Monday was coined back in 2005 to highlight the significant spike in online spending that occurred on the first day back to work following Thanksgiving weekend," added Mr. Fulgoni. "The working theory at the time was that broadband connections at work made it easier for consumers to shop online – and indeed we see that work-based buying accounts for half of all Cyber Monday spending. But it's a pattern we continue to see even with near universal broadband connectivity in the home, suggesting there are other drivers behind online shopping at work. The fact that many people are still in the shopping mindset coming out of Thanksgiving weekend and are in front of a computer screen for 8 hours might have something to do with it. Not to mention, it is easier to shop for holiday gifts for family members without them looking over your shoulder at home!"
Weekly Online Holiday Retail Sales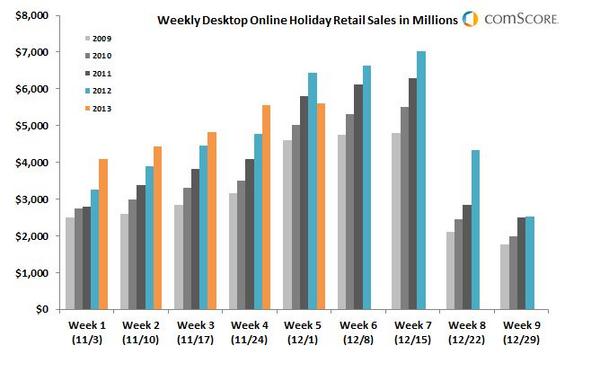 About Comscore
Comscore, Inc. (NASDAQ: SCOR) is a global leader in digital measurement and analytics, delivering insights on web, mobile and TV consumer behavior that enable clients to maximize the value of their digital investments. For more information, please visit www.comscore.com/companyinfo.
Contact:
Adam Lella
Comscore, Inc.
+1 (312) 775-6474
press@comscore.com
Follow @Comscore