- 2013年11月19日
Crystal Ball: 5 Bold Predictions for the 2013 Holiday Season
Twas the month before Christmas, unclear what's in store
The retailers were asking, "What's next, dear Comscore?"
With Thanksgiving, Black Friday and Cyber Monday inching ever closer, the 2013 holiday season is nearly upon us. With many stakeholders eager to gain some foresight as to what this season might have in store, we at Comscore decided to take out our crystal ball and make five bold predictions about what headlines we're likely to see by the time the season has concluded.
1) Holiday desktop e-commerce will grow 13-15% with a shorter calendar weighing on growth.
With six fewer days between Thanksgiving and Christmas this year compared to last year, we expect to see a slight decline in the overall spending growth rate compared to a typical year. Even though we measure the holiday season from November 1st through December 31st every year, the heavy spending always occurs after Thanksgiving. Therefore by having fewer days between Thanksgiving and Christmas, spending is constrained during the heaviest period of the season, which will likely end up having some negative impact on the season as a whole.
On the positive side, we expect a surging season for mobile commerce, or simply "m-commerce". With mobile sales factored in, we are more likely to see 14-17% year-over-year growth this season in online spending. Which brings us to our next prediction…
2) M-commerce will reach its highest ever percentage of total digital commerce at 12-13% and approach $10 billion in spending for Q4.
M-commerce has reached a record high percentage of total online spending in three of the last fourth quarters of the fiscal year. We expect this trend to continue into 2013, surpassing the 11.3% of total digital commerce spending achieved in Q4 of 2012.
We have seen that in periods of concentrated consumer activity, a greater number of people are likely to engage in emerging behaviors, such as mobile commerce. Considering the six fewer days this season, online shopping will be even more concentrated and magnify the need for mobile-supported shopping. As a result, we expect to see m-commerce grow in importance as more shoppers experiment with this behavior, while some may even make it a habitual part of their shopping experience.
3) Cyber Monday will be the heaviest online spending day in history and approach $2 billion in spending with a 20%+ year-over-year growth rate.
Because of the compressed shopping calendar this year, we predict the benchmark promotional shopping days such as Black Friday, Cyber Monday and Green Monday to perform particularly well given pent-up consumer demand and less time to get all of one's holiday shopping completed in time.
Moreover, we expect heavier promotional activity from retailers on these big spending days will also contribute to heightened activity and leads us to predict that Cyber Monday will be the heaviest online spending day in history with $1.8 billion in desktop e-commerce – and likely more than $2 billion when accounting for mobile commerce.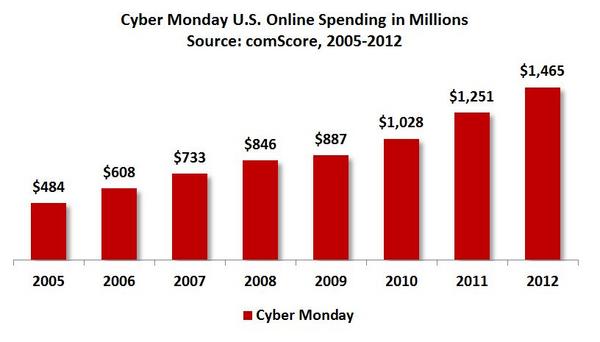 We also expect that Cyber Monday will once again rank as the top online spending day of the year, as it has been for the past three years. Interestingly, when the term Cyber Monday was originally coined in 2005, there was a misconception that it was the heaviest online spending day of the year – when in fact it barely cracked the top 10. However, beginning in 2008 the day gained in importance as retailers ratcheted up their promotional activity dramatically. Since then it has never ranked outside the top 3 days, and it has held the mantle as the top online spending day since 2010. This year will be no different.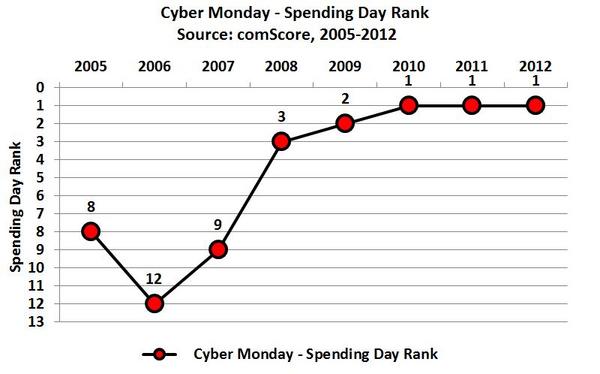 4) Late-season shopping will prevail, with 25% of buying happening December 15th or later.
Typically by mid-December online holiday shopping begins to taper off as consumers begin to shift a higher percentage of their late-season shopping to brick-and-mortar. However, we predict that consumers will buy online much later into this season than usual, with the work week of December 16-20 expected to drive an especially high level of online commerce. This is a result of there being only three weeks of holiday spending after Thanksgiving this year, as opposed to the usual four weeks, and people now being more confident than ever that they can purchase a product online and receive their package in time for Christmas.
In the early days of e-commerce, consumers did not have a great deal of confidence in online retailers delivering their packages in a timely fashion. As consumers gradually learned that shipping had become much more reliable, we saw an improved confidence level in late-season online buying. With Free Shipping Day on Wednesday, December 18th, and the fact that consumers can still feeling reasonably confident about ordering as late as Friday the 20th and still receiving packages in time, we can expect the week of December 16-20 to be a big one this year.
5) There will be a Monday through Friday work week this year that is headlined by five $1 billion dollar spending days, with Cyber Week the most likely.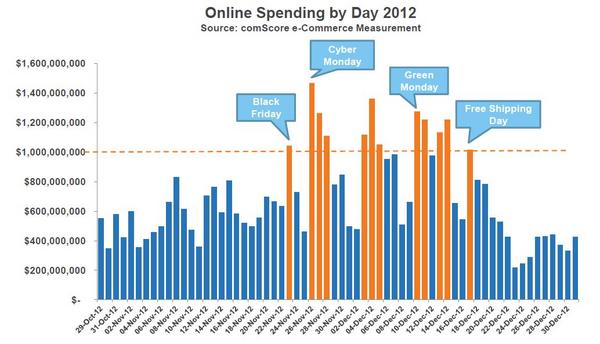 We were actually very close to achieving this feat last year. As you can see from the above chart, 2012 had 12 days surpass $1 billion in sales, with four out of five days during the week of Green Monday hitting that threshold. Again, the shortened calendar leading to higher consumer demand per day should be enough for us to reach five $1 billion dollar spending days in a single week. While Cyber Week is a very likely candidate for this feat, any of the three peak spending weeks this year could pull it off – and possibly more than one will do it.
Only time will tell which of these predictions come true, but in the meantime we will all eagerly await what is sure to be an exciting online holiday shopping season!