- 2009年11月20日
Free Shipping this Holiday Season: Margin Eater or Opportunity for Retailers?
Each year it seems that free shipping deals become more and more prevalent as we enter the holiday season. Perhaps stoked by the furious competition of Cyber Monday, it seems that for many retailers offering free shipping is essentially the price of entry if they have any hopes of converting consumers during the heaviest part of the online buying period.
Comscore reported data during our recent webinar State of the U.S. Online Retail Economy showing just how important free shipping had become over the past few years. During Q3 2009, 42 percent of all e-commerce transactions completed in the U.S. included free shipping, up from 31 percent in Q1 2008.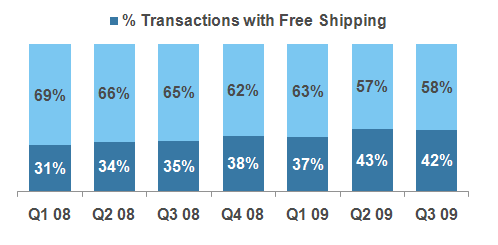 Why has this phenomenon taken hold so strongly? First, I think that consumers are getting wise to the types of offers they receive online. And if one retailer doesn't offer them free shipping, another one will. Secondly, I think the effects of the recession have accelerated this movement towards free shipping. Consumers need to feel that they're "getting a deal" with their financial resources increasingly scarce and it seems that fewer are willing to simply pay full price.
We recently conducted a survey of Internet users regarding their online holiday shopping behaviors, and one question we asked was: When making a purchase online this holiday season, which of the following statements best describes how important free shipping is to you?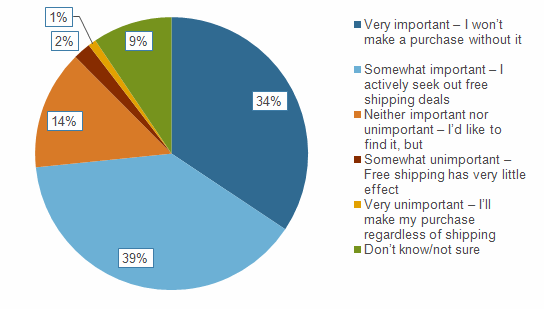 Nearly three quarters of all respondents indicated that free shipping was somewhat important or very important. In other words, three out of every four online shoppers are going to have free shipping on their mind when deciding whether or not to make a purchase. More than one-third indicated it was very important and that they wouldn't make a purchase without it!
So retailers are in a position where they really have to figure out a way to offer free shipping, because it is clearly a primary determinant in most consumers' online purchase behavior. Of course, this reality could be cause for some concern to retailers, as free shipping offers have a way of eating into margins. It's certainly a valid concern.
But it is also a potential opportunity for retailers. One important aspect of free shipping we found is that orders that included free shipping were an average of 15-20% higher than orders without free shipping. Now that may seem counterintuitive at first. One might expect that consumers would prefer to spread out their shipping costs over more items and that average order values would be higher for transactions including paid shipping.
What's really going on here? Actually, the higher average order values are due to the fact that many free shipping deals are tied to minimum spending thresholds (e.g. "Free Shipping when you spend $100"). When put in this context, the free shipping deals make a lot of sense. They can be positioned in a way that adds value for the retailer, by generating more sales, and adds value for the consumer, who is satisfied knowing that he or she "got a deal" on their transaction.
So my advice to retailers this holiday season: think of free shipping as an opportunity to give your consumers what they want – peace of mind. When everyone is watching their pennies, consumers have a much stronger psychological need to be sure they're getting a deal on anything they purchase. It's something you can deliver to them in a way that can certainly benefit your topline results and maybe even your bottom line.