- 2012年11月19日
Looking Ahead to Key Online Spending Days for the 2012 Holiday Season
A couple of weeks back, I mentioned some of the key themes we expect to be important in the 2012 online holiday shopping season. But as we begin inching closer to Thanksgiving and the unofficial kick-off to the heavy part of the season, it's worth taking a deeper look at how some key shopping days have performed in past years and what to expect for this year.
Cyber Monday is of course the centerpiece of the online holiday season, but several other days are important – with a few becoming increasingly so. Perhaps one of the more interesting trends is the emergence of Thanksgiving Day as a day of shopping activity, both online and offline. While it still sees significantly lighter spending than other days ($479 million for Thanksgiving Day in 2011 vs. $1.25 billion for Cyber Monday), it is growing at a lightning clip. In fact, over the past five years, online spending on Thanksgiving Day has surged 128%, about 2.5x the rate of online holiday spending in total (+51%). Thanksgiving's 5-year growth rate even surpasses Cyber Monday's stellar 106% growth over the same time period. Other important shopping days like Black Friday (+88%) and Green Monday (+71%) are also significantly outpacing the average.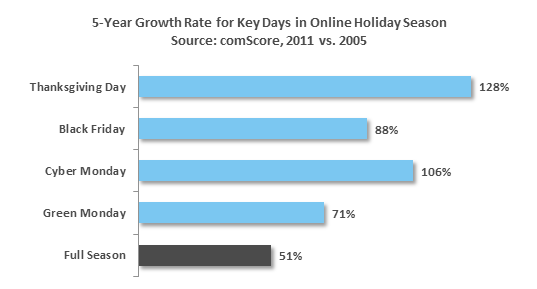 While Thanksgiving Day is becoming a more important shopping event, it pales in comparison to the significance of Cyber Monday. In 2005, when Cyber Monday first earned its moniker, spending on that day reached $484 million – about what Thanksgiving Day had last year. By 2011, it had reached an impressive total of $1.25 billion in spending and it remains the heaviest online spending day in history. Today it reigns as clearly the most important online day for retailers – one during which they can expect to generate considerable online sales but also gain all-important mindshare among consumers as they ramp up their spending over the weeks prior to Christmas.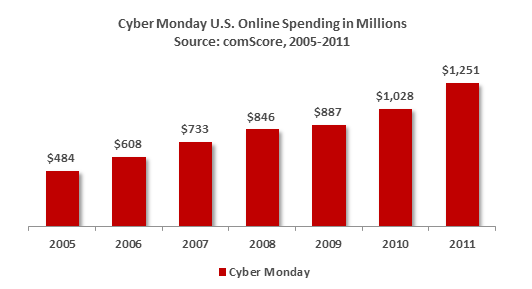 Interestingly, when the term "Cyber Monday" was first coined by Shop.org (retailers' online trade body), it was often erroneously thought to be the heaviest online spending day of the season. In reality, the day signified the first big spike in spending, but it was often bested by several other days in December. From 2005-2007, Cyber Monday ranked between 8th and 12th among all spending days by the time the season had concluded.
However, its status changed in a significant way during the midst of the 2008 financial crisis. Consumers were fearful of the economy being in a freefall and it seemed that nobody wanted to open up their wallets. So retailers responded by offering very attractive discounts and ramping up promotional activity around Cyber Monday. As a result, the day became much more important to the season as a whole and finished the year as the 3rd heaviest spending day. A similar trend continued in 2009 when it ranked 2nd, and then it finally emerged to take the crown as the heaviest day of the season in 2010 – a feat it repeated in 2011.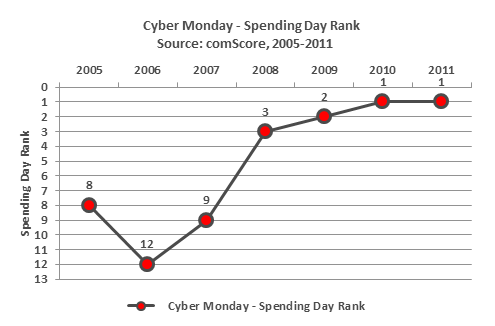 What is Comscore expecting for 2012? It appears likely that the trend of the past few years will hold and that Cyber Monday will once again rank atop the list. In terms of dollar expectations, there is a good chance we'll see spending surpass $1.5 billion on that day.
Undoubtedly, most online retailers out there already have their deals ready to ensure they're firmly in consumers' consideration set this year. Consumers are showing renewed signs of optimism heading into this year's shopping season and it's never too early for online retailers to win a fair share of their spending.