validated Campaign Essentials™
Validate Total Campaign Delivery and Optimize In-Flight
with a Single, Holistic Tool
An ad that never had an opportunity to be seen by its target audience can't deliver its intended impact. Nor can an ad that was delivered in the wrong geography, next to questionable content or subject to non-human traffic.
"

At Kellogg's we are continually seeking to improve the overall effectiveness of every media dollar spent. Key to enabling our decisions is understanding who each impression reaches, how visible our ads are, and where the greatest efficiencies exist. Being able to validate our media delivery through a single source with vCE creates opportunities for both near real-time optimizations as well as enhanced future planning.

"
Aaron Fetters
Associate Director Global Digital Strategy and Analytics, Kellogg Company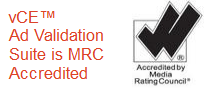 validated Campaign Essentials (vCE) is a holistic ad delivery validation solution that provides deep campaign insights, in-flight reporting and daily alerting for convenient and effective campaign management.
Unlike existing single-point solutions, vCE provides an unduplicated accounting of impressions delivered across a variety of dimensions, such as ads delivered in-view, in the right geography, in a brand safe environment and absent of non-human traffic. It also evaluates the degree to which validated impressions reached the campaign target audience.
The ad validation suite in vCE, which includes viewability, brand safety, in-country geographic delivery, engagement, and removal of non-human traffic, is accredited by the Media Rating Council (MRC).
To learn more about how comScore can help you compete and succeed in the digital world, contact us today.