-
2013年3月14日
2013 Future in Focus - Digitales Deutschland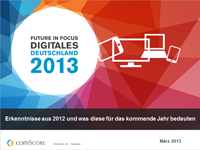 Comscore presents its 2013 Future in Focus – "Digitales Deutschland" report on the latest digital trends in Germany. The report is written in German and outlines prevailing trends in digital behaviour, mobile, online video, search, online advertising and includes a special review of social, retail and women on the web.
Key Insights from the report include:
57.4 million people in Germany access the internet via a PC or laptop, spending more than 24 hours per visitor online during a month
Smartphones reached the majority of German mobile users with 51 percent penetration in the three month average ending December 2012
14 percent of smartphone users purchased goods or services in December 2012
More than 16 million Germans used their smartphone to access a social network or blog during December 2012
Mobile video has grown by 211 percent over the year - 10 million German mobile users viewed videos via their device
Throughout 2012, 762 billion display ad impressions were delivered across the web – nearly a third of these impressions were on social media sites
In December 2012, female German internet users demonstrated the highest propensity to visit H&M and Spil Games relative to male internet users
Smartphone penetration amongst German women increased by 60 percent over the year whilst the number of male smartphone owners only grew by 35 percent
Comscore MMX® Multi-Platform provides an unduplicated view of total audience behavior across desktops, smartphones and tablets.
更多详情