September 3, 2013
5 Reasons to Start Using Direct View Today
Everyone these days is talking about wearable Internet-enabled devices. What if you could have extra data layered on top of what you see? Would it be easier to make decisions when you could have detailed data incorporated right into what is directly in front of you? It's not just wearable computers that are adding data to real-life situations. The concept for data-layered views can be used in the business world with great success as well. Today comScore clients are already using a data-layered view of their websites to understand their consumers.
What were the top 5 links on your homepage yesterday? 7 days ago? 4 weeks ago? Do you know what user segments click the most? Are you actively using this data to optimize your content? You could be.
comScore Digital Analytix® customers have access to Direct View – a quick, easy-to-use, data-driven view of their website performance, with metrics inline on their live site for up to a 28 day look-back window.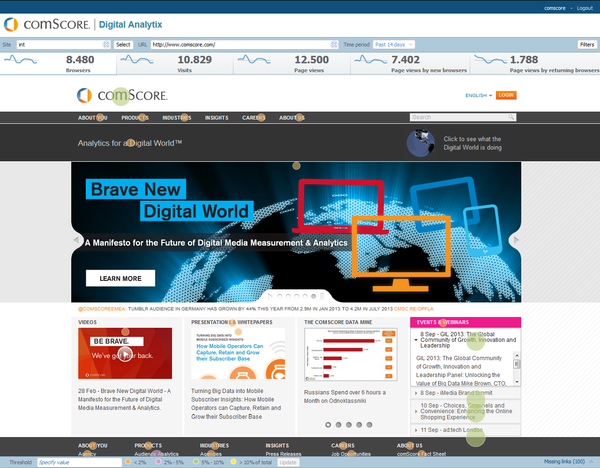 In Direct View, page metrics are displayed in the top-of-page panel and link metrics are represented by colored circles that overlay your content.
Not only does Direct View provide a clear view of site performance, it also offers marketing and analytics benefits your digital team can work into everyday efforts to optimize user engagement and conversion. Consider the top 5 reasons website owners are already using Direct View:
Identifies Winners and Losers
Direct View enables site managers to analyze user behavior to quickly determine which content attracts the most attention and which content is not meeting the bar. Understanding what not to feature enables you to redeploy resources to content that will drive increased engagement.

Lets You Go Back in Time
Updated the content on your page recently? Not a problem. Direct View provides data on missing links no longer live on your site. There may be popular content you want to bring back into the mix to boost clicks and conversion.

The Missing links module gives you an overview of the links that were previously available on the page you are viewing during the specified time period.

Rewards Your Users
Apply filters to your website's click data to determine your most valuable user segments. Paired with insights on your most popular content, you can now target content more effectively based on segment preferences in order to maximize engagement and conversion.
Optimizes Your Templates
Direct View can be used on any web page tagged for Digital Analytix, even landing pages not linked from your main site. Seamlessly analyze the impact of landing page design, reworked templates and content updates.
Browse and Learn
No downloads, plug-in, extra tabs or separate windows required. Direct View is accessible via any web browser and will overlay your site content with page and link metrics while you browse your site. Click through your site just like a user, armed with data as you go.
You and your team can start engaging in a data-layered view of your business by using Direct View today by logging in at: http://dax-directview.comscore.com/. (Customers outside the U.S., login here.) If you're not yet a Digital Analytix customer, learn more by downloading the Direct View Fact Sheet or contacting us.