November 4, 2009
Page Load Performance Can Affect Consumer Behavior: How Does Your Site Measure Up?
I am very excited to announce that comScore recently introduced a new capability for measuring page load data, which allows Web site operators to benchmark the performance of their sites vs. their competitors. This new capability was made feasible through a software upgrade that allows us to record each time a web page fully loads and the amount of time that action takes to complete. The load time is meticulously tracked down to the millisecond, making it possible to accurately compare loading performance across sites. (Note: For the tech savvy among us, we are measuring the "DocComplete" event in the Document Object Model (DOM).)
As people rely on the Internet for an increasing number of functions in managing their daily lives, the demand for high speed access has grown considerably. Web users' patience for page loading has clearly diminished over time and those who do not receive immediate satisfaction are likely to shift to a site that can provide it. The ability to monitor page load data will allow us to perform a variety of new analyses that can yield actionable insights for our clients. For example, we are able to review how page load times relate to important factors such as repeat visitation to a site, search usage, and even E-commerce conversion metrics.
In support of a presentation we recently delivered at Akamai's 2009 Global Customer Conference, we chose to analyze how page load times affected consumer activity at four domestic airline sites in the U.S. We compared two airline sites that were using a page load optimization solution (in this case, Akamai Dynamic Site Acceleration) to two sites that were not. The chart below illustrates the relative load times of pages at the particular airline sites for both visits resulting in a ticket purchase and those not resulting in a purchase: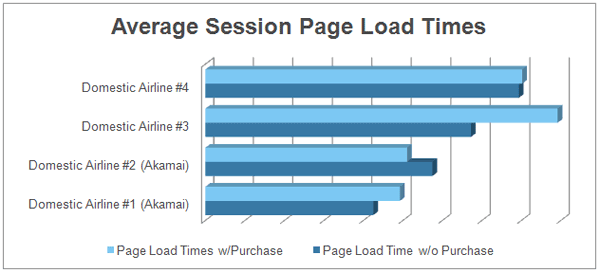 We can see from the results that page load times were substantially shorter at the two airline sites which used the Akamai accelerator -- whether or not a purchase occurred. We also found that users of the page load optimization solution had a 40% shorter web page load time when a purchase was involved compared to the sites that did not use a solution. In the case of Airline #2, the page load time with a purchase was actually faster than the page load time without one, which is particularly impressive given that more processing needs to occur in order to confirm a customer's order.
We believe this new data will enable many more compelling studies in the future as we begin to expand our measurement of actual consumer web page load performance vs. automated services. This will become especially important in the e-commerce category where the measurement of download times for pages that involve purchases are difficult to automate. Stay tuned!