January 24, 2012
Nearly 5 Percent of EU5 Traffic Generated by Mobiles and Tablets
In an analysis of October 2011 internet traffic from the EU5 markets, the UK led with the highest share coming from non-computer sources (i.e. connected devices and mobile phones) at 7.7 percent. Across the EU5 region computer usage accounted for 95.1 percent of all browser based page views, with mobile devices (3.2 percent) accounting for a considerable amount of the remaining 4.9 percent of non-computer traffic. 1.4 percent of digital traffic in Europe can be attributed to tablets, while the remaining 0.3 percent to other connected devices such as games consoles.
France and Italy had the lowest share of traffic coming from non-computer devices, whereas the UK leads the EU5 markets with 7.7 percent of all browser based traffic coming from connected devices. The majority of this non-computer traffic is from mobile phones (5.1 percent) and tablets (2.0 percent).
For more information, please download the full report 'Connected Europe: How Smartphones and Tablets are Shifting Media Consumption'.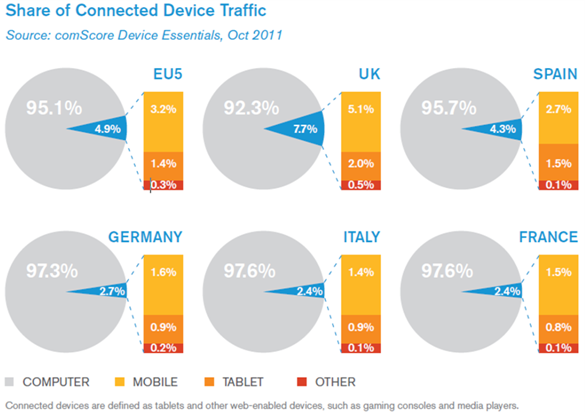 Related Products
comScore Device Essentials™ is the only solution of its kind to provide insight into unique digital device usage across the globe, offering detail into device characteristics,...
Learn More