June 24, 2013
Social Media Sites Capture a Third of Display Ad Impressions in Germany
More than 56 billion display ad impressions were delivered across the German web in April 2013. A breakdown of the top categories shows that social media sites captured a third of all display ad impressions in Germany that month, followed by entertainment sites with a 12 percent share and portals with 9 percent.
Service sites, such as email platforms, captured 8 percent of all display ad impressions during April 2013, whilst auctions achieved a 6 percent share of display ad impressions in Germany. The top three advertisers that month were eBay, Microsoft and Otto, whilst the leading publisher site was Facebook.
This overview of the display advertising marketplace in Germany raises a key question: 'Were these ads actually seen by the desired target audience?' To learn more about the importance of ad validation and measuring viewable impressions, please visit www.comScore.com/vCE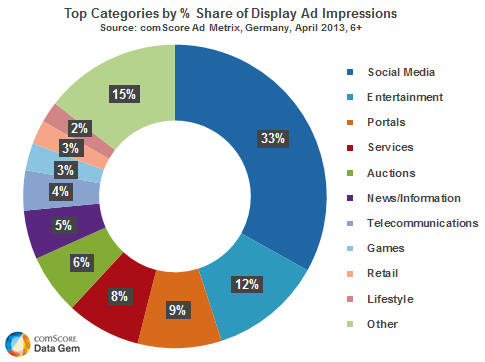 Related Products
comScore Ad Metrix® provides competitive intelligence for tracking display advertising, reporting on key person-based metrics and uncovering unique contextual insights.
Learn More