April 3, 2012
The Synergy of User Generated and Professional Video Content
Speaker: Frank Findley
Event: comScore Webinar
Download Slides

View Presentation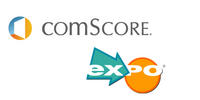 The proliferation of social media across the web has led to an explosion of consumers broadly sharing their brand experiences with each other. And the simultaneous rise of online video has brought the power of sight, sound and motion to their discussions. How does this trend effect the value of professionally produced video content within the marketing mix? A recent study conducted by comScore and EXPO provides a compelling case illustration of how using user generated product reviews, together with professionally produced videos, significantly enhances brand equity and sales effectiveness.
Key questions addressed include:
Can user generated product reviews really hold consumer attention like professional videos?
How does the strategic content of consumer produced and professionally produced videos differ?
Are different emotions provoked by user generated and professional videos?
Can user generated reviews drive brand choice at similar levels to professional videos? What happens when consumers experience both?
Tags:
Comparison shopping
,
Online video