Webinar
十二月 2, 2015
|
Share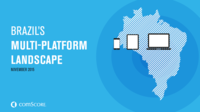 There is no doubt about how multi-platform and mobile consumption is changing the digital scene in Brazil. While Brazilian users are spending more time on mobile, desktop remains a tremendous opportunity to continue to reach a large portion of the total digital population. It's time to focus on people, regardless the platforms for digital consumption.
发言者;演讲者:
Luciana Burger, VP Brasil, comScore Inc.
2 十二月 3:00 pm - 4:00 pm

阅读更多
Register Here
Webinar
十二月 8, 2015
|
Share
Brand safety, ad fraud, viewability and audience targeting – brands are facing challenges that affect their trust in digital advertising.
发言者;演讲者:
Duncan Trigg, VP Advertising Effectiveness at comScore Tracey Lewis, Digital and Ecommerce Analytics Lead at Kellogg
8 十二月 12:45 pm - 1:30 pm
comScore and Kellogg - ISBA Webinar: 4 things to consider for your 2016 digital advertising plan
阅读更多
Conference Homepage and Registration
Webinar
十二月 15, 2015
|
Share
Join comScore and Neustar as they discuss key insights from the 8th annual Local Search Study on Tuesday, December 15th at 2 p.m. ET. Learn how to create a positive online experience for potential customers, driving in-store and online purchases.
阅读更多
Register Now