2014年6月3日 - 事件: Dutch Digital Market Overview
Dutch Digital Market Overview April 2014
Your monthly snapshot of digital audience trends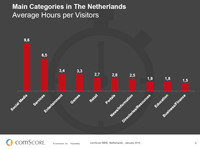 In April 2014, there were 13.3 million desktop and laptop internet users, 84% of whom also watched videos online (11.2 million unique viewers).
Google Sites lead the website rankings with 12.6 million unique visitors, followed by Microsoft Sites (10.2 million) and Facebook (9.6 million).
Google Sites (including YouTube) remain on top of our online video rankings, followed by Facebook, who achieved a 24 percent increase in April.