Blog
Dec. 4, 2013
|
Share
A young and upwardly mobile population with growing income levels and increasing online penetration makes India a very lucrative online market. In line with this trend online advertising has seen a very healthy growth pattern in the last few years. Just in the last passed quarter more than 96 billion ad impressions were delivered across India's websites.... Read more
By:
Amarpal Singh
Tags:
Ad Impressions
,
Advertising
,
CPG
,
Marketing Research
Blog
Nov. 12, 2012
|
Share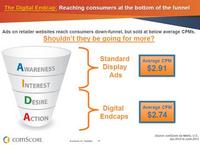 This year we are seeing the emergence of another form of display ad that resides further down the funnel, which we are calling the "Digital Endcap," which refers to a display ad for a manufacturer appearing on a retailer's website. Read more
By:
Eli Goodman
Tags:
Advertising
,
Black Friday
,
CPG
,
Cyber Monday
,
e-Commerce
Blog
Sep. 17, 2012
|
Share
In today's uncertain economic environment with the lingering effects of the recession, advertisers and agencies are working harder than ever to employ effective advertising approaches. One consistent debate has been whether or not to include a "value claim" – defined as including information about price, value, savings or special offers –... Read more
By:
Diane Wilson
Tags:
Advertising
,
Comparison Shopping
,
CPG
,
e-Commerce
,
Retail
,
Shopping
Blog
Oct. 22, 2010
|
Share
By any measure, sales of consumer package goods represent an enormous industry - convenience and club stores, supermarkets, supercenters and drug stores, macaroni, mouthwash, mustard and other daily necessities generate more than $1 trillion in annual sales. So it's no surprise that, for years, the online-ad industry has eyed CPG giants' vast marketing... Read more
By:
Gian Fulgoni
Tags:
CPG
,
Retail
Blog
Sep. 14, 2009
|
Share
Many small brands are never advertised on TV and do not get to experience the glamour and rewards of brand advertising. Often, the reason is the unattractive economics of trying to reach a low incidence buyer base. For instance, in a product category with only a 5% buyer penetration, a brand using a gunshot advertising approach on TV will reach 95 out... Read more
By:
Magid M. Abraham, Ph.D.
Tags:
CPG
Blog
Jan. 25, 2008
|
Share
I was recently interviewed by Surinder Siama of ResearchTalk Podcasts about current trends in Internet market research, and thought I'd share the video with you below. Much of our discussion focuses on a recent study that comScore conducted with P&G, Yahoo! and SEMPO that explored the potential for the CPG industry to invest in, and benefit from,... Read more
By:
Gian Fulgoni
Tags:
Advertising
,
CPG
Blog
Aug. 13, 2007
|
Share
With comScore's IPO successfully completed and our company now well established as the leading supplier of digital marketing intelligence to more than 700 clients, I occasionally find myself thinking nostalgically back to August 1999, when Magid Abraham and I founded comScore. Read more
By:
Gian Fulgoni
Tags:
CPG
Blog
Jun. 13, 2007
|
Share
Hi, my name is James Lamberti, SVP Search and Media at comScore. I'm heavily involved in our search work and often partner with clients and the industry to dive deeper into the role and value of search. On June 27th, I am delivering a keynote at Searchnomics 2007, titled "Beyond Direct Response: Search's Role in the Media Mix for Branding and Offline... Read more
By:
James Lamberti
Tags:
Advertising
,
CPG
,
e-Commerce
,
Retail
,
Search
,
Shopping