Blog
Sep. 9, 2013
|
Share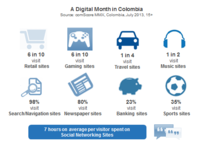 The most popular online activity in Colombia during the month of July was Social Networking, accounting for nearly 7 hours on average per visitor. Colombians also spent their time visiting Multimedia sites reaching 3 hours that month. Read more
By:
Ana Laura Zain
Tags:
Banking
,
Media & Entertainment
,
Newspapers
,
Retail
,
Social
,
Sports
,
Travel
Blog
Jul. 25, 2013
|
Share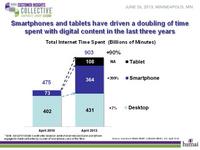 Mobile devices are having a large impact on how consumers research and purchase online travel services. These changes, which are profound and taking place at a rapid pace, present both challenges and opportunities for those in the hospitality sector. In this blog post, comScore co-founder and chairman Gian Fulgoni explores mobile media usage, content... Read more
By:
Gian Fulgoni
Tags:
Mobile
,
Multi-Platform
,
Travel
Blog
Aug. 1, 2011
|
Share
Summer travel is a daunting prospect. Everything is packed: the planes, the hotels, the roads, and your cars (especially those with kids). We have all witnessed epic meltdowns by fellow travelers and travel workers alike, the heat and the impatience pushing everyone to their breaking point. Fortunately the Internet has taken some of the hassle out... Read more
By:
Eli Goodman
Tags:
Search
,
Travel
Blog
Jan. 14, 2011
|
Share
Tis the season for holiday shopping, and across the globe more people are turning to the Internet to make their purchases – particularly in the retail sector. E-commerce is traditionally led by travel transactions and purchases, but towards the end of the year in the U.S., retail e-commerce picks up. E-commerce can equal big bucks – take for instance... Read more
By:
Joe Nguyen
Tags:
e-Commerce
,
Retail
, ,
Travel
Blog
Sep. 16, 2010
|
Share
While we tend to focus much of our attention on retail e-commerce spending trends as a gauge of the U.S. consumer economy, it can be easy to overlook another important sector of e-commerce: online travel. Though it no longer drives the majority of online spending, it still amounts to $80 billion annually, or about 40% of total e-commerce. Read more
By:
Andrew Lipsman
Tags:
e-Commerce
,
Travel
Blog
Apr. 7, 2008
|
Share
I published an article in the Harvard Business Review this month, summarizing some of the work comScore has been doing with clients to evaluate the effectiveness of online advertising. As with most things in business, the return on investment is what drives future plans, especially advertising plans. Read more
By:
Magid M. Abraham, Ph.D.
Tags:
Finance
,
Retail
,
Travel