May 27, 2011
Nearly 70 Percent of EU5 Mobile Banking Users Own Smartphone
Perhaps not surprisingly, smartphone users accounted for nearly 70 percent of mobile banking users in the EU5 region (France, Germany, Italy, Spain and the UK). Apple users exhibited the highest relative usage of mobile banking (index of 393) and accounted for 27.5 percent of all mobile banking users in the region. Apple's 5.5 million mobile bankers are followed by users of Google's Android software (index of 245), the latter accounting for 2.7 million of all mobile bankers in EU5.

Symbian, still the 2nd largest smartphone platform in Europe, accounted 3.3 million users of the service, but due to the overall high number of smartphones running on Symbian this resulted in the lowest index with a representation of 110.
The full press release titled "Europe Sees 40 Percent Growth in Mobile Banking Through Smartphones" is available here.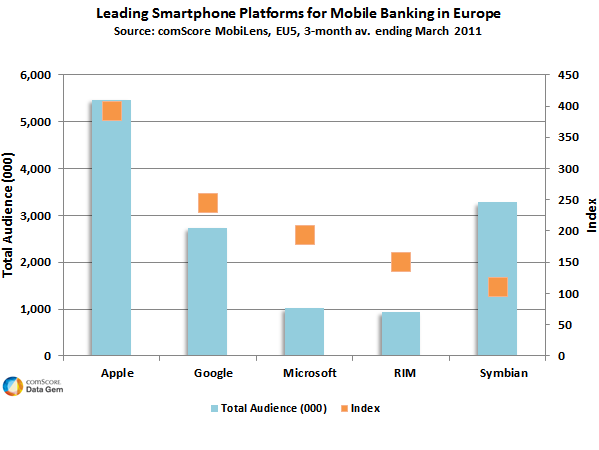 * Index of 100 indicates average representation.