August 16, 2013
Which UK Apparel Sites Have the Largest Digital Audience?
According to comScore MMX™ Multi-Platform, which provides unduplicated audience measurement across PC browsing, PC video streams and on-network mobile browsing usage, the Total Digital Population (TDP) in the UK was 46.1 million in June 2013.
In the UK retail-apparel category, Next Group led the way with a TDP of 4.3 million during the month, followed by ASOS and Arcadia Group with 3.8 million and 3.5 million respectively. Even though New Look had a slightly smaller digital audience (3.1 million), they extended their reach by 14 percent when accounting for on-network mobile browsing in June.
For further digital audience trends and insights, download the latest UK Digital Market Overview Report, which is produced on a monthly basis in partnership with UKOM.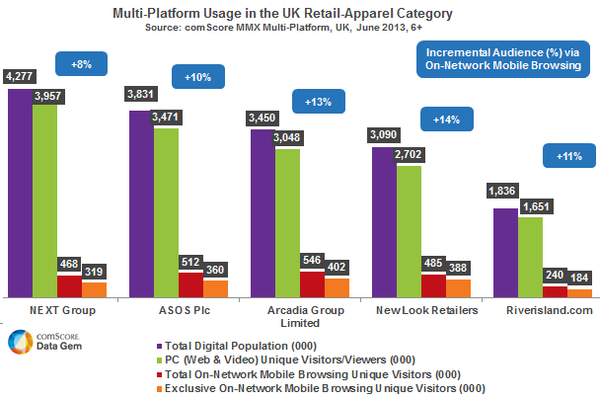 Related Products
comScore Media Metrix® Multi-Platform provides the industry's first comprehensive view of the consumption habits of your digital audience and your competitive set, along...
Learn More