June 8, 2011
comScore Data on Apple iOS Featured at WWDC
On Monday, we were especially pleased to see comScore's data featured prominently in the keynote kicking off Apple's Worldwide Developer Conference (WWDC) in San Francisco. There's nothing like a 20' tall pie chart to make a data wonk smile!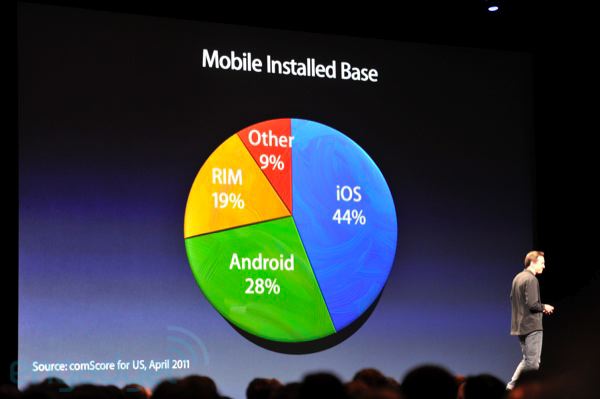 The chart, entitled "Mobile Installed Base," was used to illustrate how the iOS has the largest platform footprint in the U.S. Since there have been a few questions floating around the web about what this data represents exactly, we thought it would be worth taking a moment to explain. This particular data representation is based on comScore's most recent U.S. data on the current installed base of smartphones and a subset of "connected devices," which is a new category we began reporting on earlier this year. The iOS data includes the three primary devices on which the platform resides: iPhones, iPads, and iPod Touches. Similarly, the Android slice includes Android-based phones and tablets, while The RIM slice includes Blackberry phones and Playbook tablet. The Other slice includes smartphones or tablets running Windows, Symbian, WebOS, or other operating systems. (Excluded from this chart are eBook readers, which to date have not been broadly and easily addressable by application developers.) These data are published monthly as a standard part of our syndicated MobiLens service which is available in the U.S., United Kingdom, Germany, France, Spain, Italy, Japan, and Canada.
As smartphones become ubiquitous and device manufacturers follow Apple's lead with the release of an array of tablets and other networked devices, consumers are increasingly connecting to their digital world while on the go or sitting on the couch. This is a shift that we've anticipated for some time at comScore. Through MobiLens, our Media Metrix Total Universe reports, and other products to be released later this year we're focused on providing clients with industry-leading insight on these powerfully disruptive trends.