September 9, 2013
A Digital Month in Colombia: What are the 10 million internet users in Colombia spending their time on?
The most popular online activity in Colombia during the month of July was Social Networking, accounting for nearly 7 hours on average per visitor. Colombians also spent their time visiting Multimedia sites reaching 3 hours that month.
So, who are the new players on the Colombian digital landscape?
Telecommunications sites increased by 28 percent their online audience last year, reaching 2.5 million visitors in July. The Coupons category also earned its place, growing 24 percent during the last year, reaching 1.2 million users.
Below you can see some of the other content categories that were popular amongst internet users in Colombia in July 2013.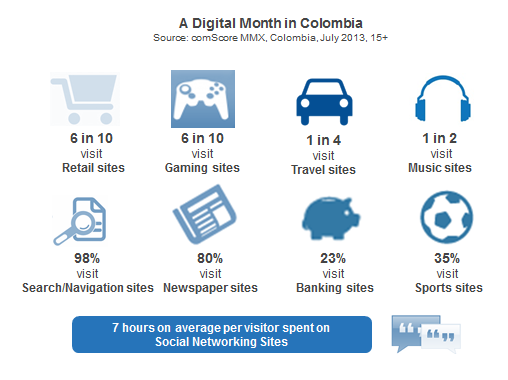 For more information and insights download our 2013 Colombia Digital Future in Focus study.
Questions? Contact us: press@comscore.com